Twindig Housing Market Index 26 Nov 22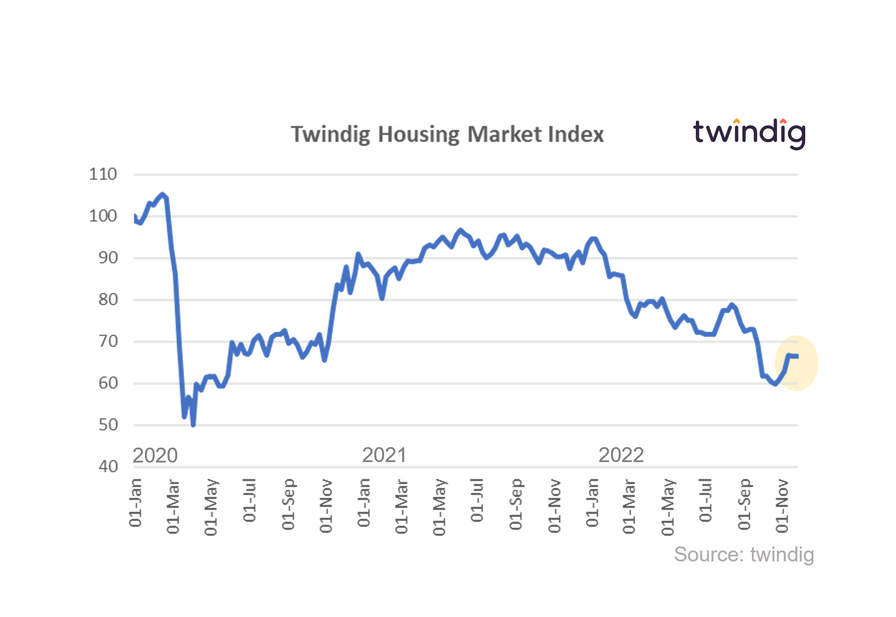 In the week that saw housing transactions rise, but large estate agency group LSL reporting that the UK housing market is slowing, the Twindig Housing Market Index fell by 0.1% to 66.4.
Housing transactions rose in October, but this has more to do with the fact that housing transactions take an awfully long time to complete, rather than suggesting that the housing market is buoyant. Those housing transactions completed in October were likely to have reached 'sale agreed' status before the summer holidays. Some were also, no doubt, keen to complete before their existing mortgage offers expired.
LSL commented that the mini-budget caused havoc with the housing market, leading many homebuyers to down tools until the housing and mortgage markets stabilised. LSL also sounded a big note of caution for the health of the housing market in 2023. Investors took note of the fact that an estate agent was being bearish and the price of LSL's shares tumbled.
We agree that 2023 is likely to be a more challenging time for the UK housing market than 2022, but we suspect that LSL is also seeking to prudently manage expectations. After all, it is always better to underpromise and over-deliver.
Next week, on Tuesday the Bank of England will reveal mortgage approvals for October, where we expect to see a significant reduction in approvals in the first full month following the mini-budget and on Thursday the Nationwide will publish its house price index for November. Will November be the third month in a row that the Nationwide House Price Index has fallen?
Subscribe to Market Views