Twindig Housing Market Index 25 Feb 23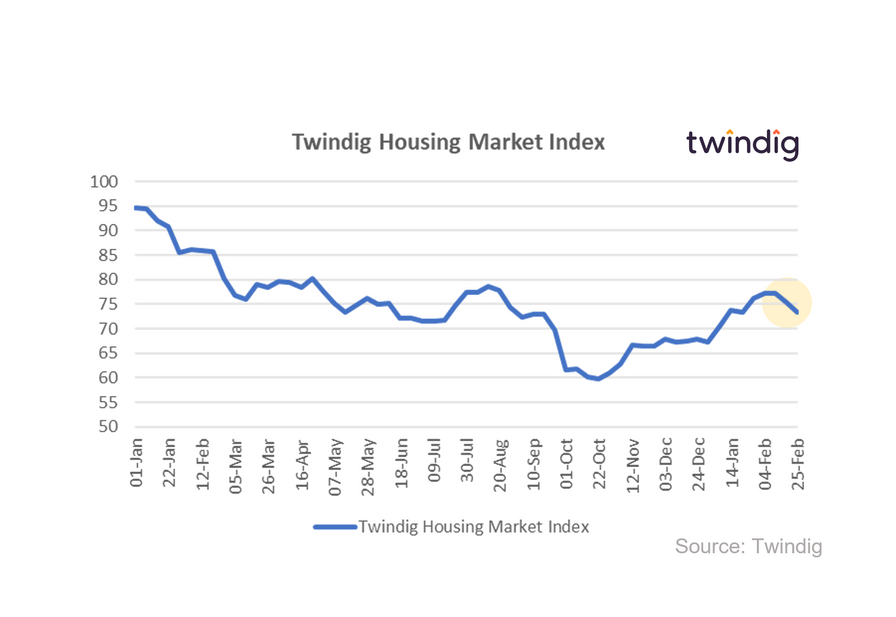 In the week that saw housing transactions fall slightly, but remain surprisingly robust and The Times ask if the UK housing market has become an inheritocracy, the Twindig Housing Market Index fell by 2.6% to 73.5.
Although housing transactions were, in our view robust, many residential investors are concerned about the level of housing transactions in the months to come as we see the full impact of last September's mini-budget on housing transactions.
Other investors had dug into the detail of Lloyds Banking Group's 2022 Annual Report which was published this week and noted that although they are only predicting house price falls of 7% this year and a peak-to-trough fall of 12%, their base case forecasts have worsened slightly since their Q3 2022 forecasts.
Housing inheritocracy
The Times this week gave voice to what many investors are thinking, have house prices reached levels where only those with property-owning parents have the opportunity to take their first steps on the housing ladder. Will this lead to a situation where housing transactions stall as house prices remain high, but fewer and fewer can afford to buy as argued by the Joseph Rowntree Foundation this week in their report Reboot: Building a housing market that works for all.
What to look out for next week
Next Wednesday the Bank of England releases the mortgage approvals data for January 2023, after falling by 23% in December 2022 will the mortgage (and therefore house buying) market have continued to lose steam in January?
The Bank of England will also publish mortgage rate data and the Nationwide will release its February house price index.
Subscribe to Market Views