Twindig Housing Market Index (HMI) - 23 October 21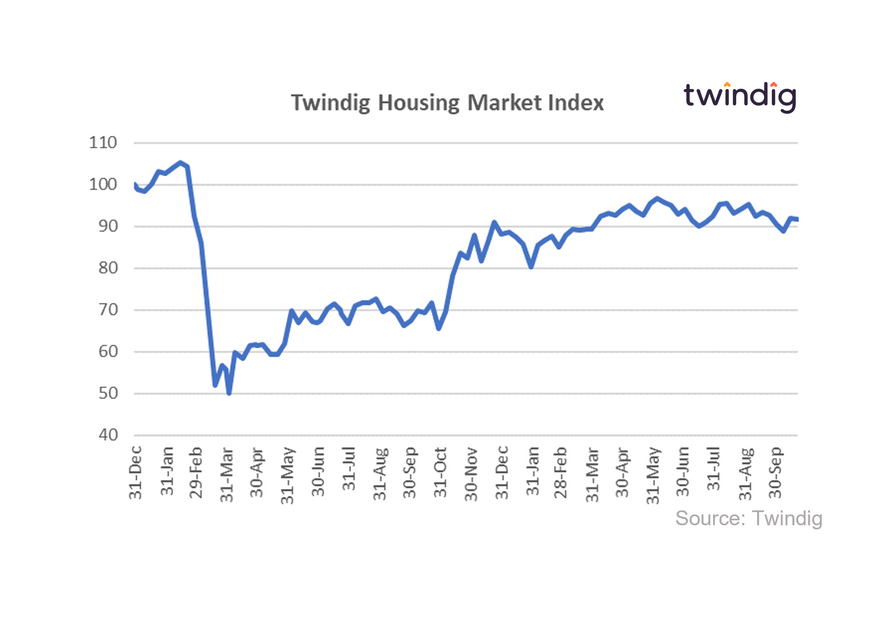 In a week where the Land Registry reported rising house prices, the Halifax raised mortgage loan-to-income lending multiples, and HMRC reported a rise in housing transactions, the Twindig Housing Market Index fell slightly by 0.3% to 91.6 this week.
The rise in housing transactions coincided with the end of the COVID-19 Stamp Duty Holiday as homebuyers rushed to complete their transaction before the 30 September and save up to £2,500 of Stamp Duty. We expect that housing transaction levels will fall in October turning the increase last month into the 'September Stamp Duty Holiday Spike'.
It was interesting to see many agents and housing market commentators saying that the stamp duty holiday did not lead to people to move home, we appreciate that it might have been a catalyst rather than the main reason, but it appears that an awful lot of people were interested in saving the stamp duty tax - as illustrated by the spikes in housing market activity as the stamp duty thresholds changed.
The first spike in March 2021 coincided with the first scheduled end of the Stamp Duty Holiday
The second spike in June 2021 when the Stamp Duty Holiday threshold was reduced from £500,000 to £250,000, and
The third spike in September 2021 the end of the extended stamp duty holiday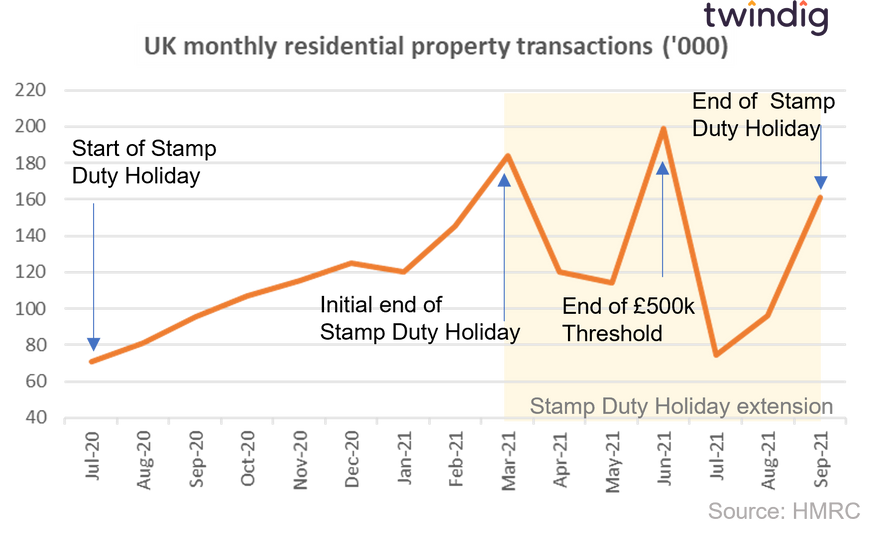 There was also an interesting debate raging about the logic or 'rightness' of offering longer-term mortgages up to say 40 years and increasing lending multiples. Those in favour say they help those who couldn't otherwise afford a home to buy one, and those against suggesting that increased lending is what drove up house prices in the first place and is the cause of the problem and not the solution.
Meanwhile, the latest research from Savills suggests that the Bank of Mum and Dad is providing first time buyers support, on average of £58,000 and is expected to 'lend' £9.8bn in 2021. Savills believe that this year the Bank of Mum and Dad will have supported 49% (almost half) of all first time buyer transactions during 2021. Great news if you are a first time buyer in the lucky 49%, but bad news if you are in the 51%.
In our view, the divorce of house prices from wages will not be solved by mortgages alone. We believe that fractional ownership is the way forward to help all people, irrespective of their family's wealth, to participate in the housing market and to turn the tide of accelerating housing wealth inequality.
Subscribe to Market Views