Twindig Housing Market Index (HMI) - 23 Jan 21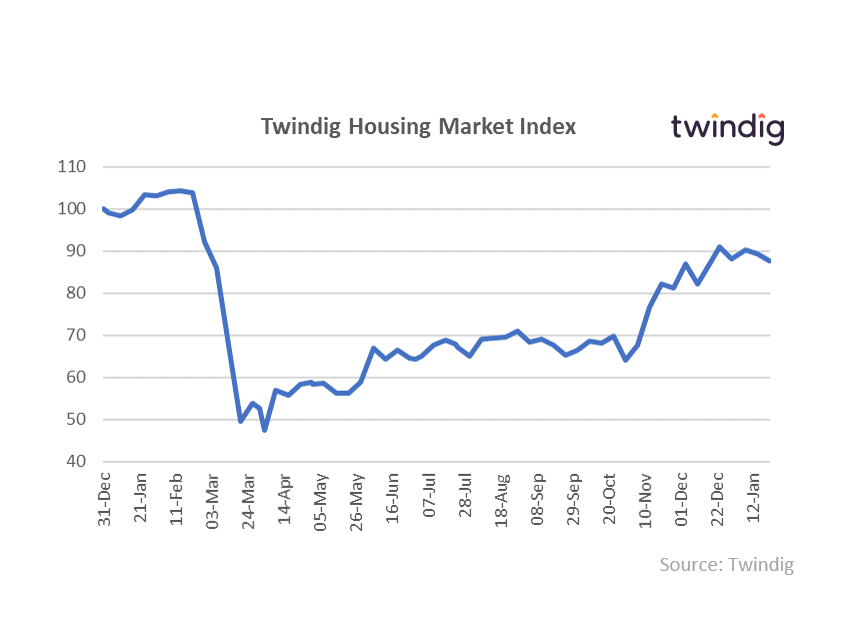 The Twindig Housing Market Index fell by 1.9% to 87.6 this week. In a week when the Land Registry reported that UK house prices hit new highs in November 2020 and the HMRC reported that housing transactions in December 2020 were at the highest December level since 2006, investor confidence took a small step backwards.
The Bank of England reported this week that lenders expect credit conditions to ease in the next quarter, with residential mortgage supply increasing and mortgage spreads decreasing. This is all good news for the UK housing sector which appears to be firing on all cylinders. However, investors noted there is uncertainty about when lockdown 3 will end and some are taking profits in case the mood music of the housing market changes.
Housebuilder Countryside reported a strong first quarter with robust demand for new homes across all the tenures it supplies (affordable, PRS and owner-occupiers). Interestingly Countryside's trading update did not mention either Stamp Duty holidays or the upcoming changes to Help to Buy. Perhaps suggesting they do not expect the ending of one or changes in the other to derail the positive momentum it has seen so far this year.
Next week we will hear from housebuilder Crest Nicholson and estate agent Belvoir, and we expect that both will talk about robust order books and pipelines.
Subscribe to Market Views