Twindig Housing Market Index (HMI) - 21 August 21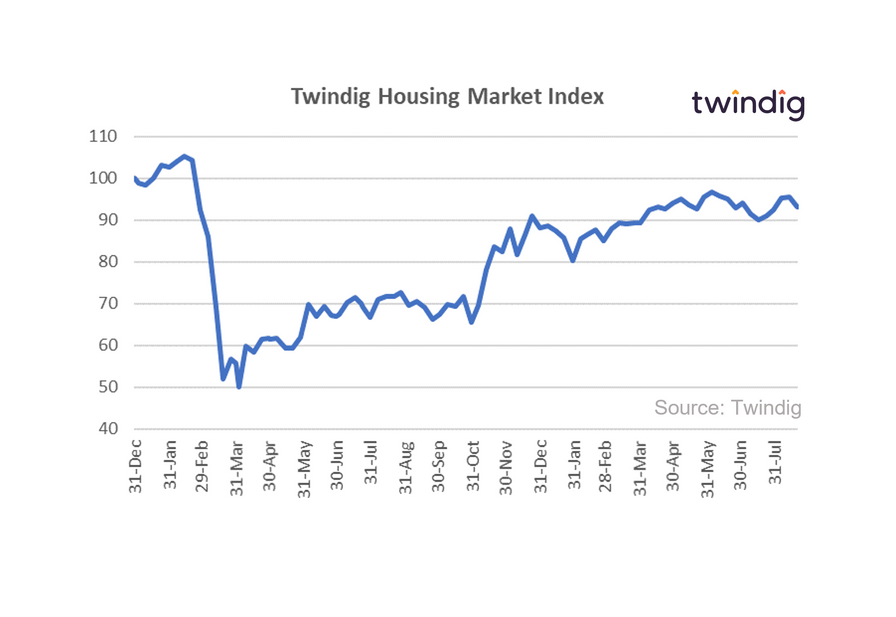 The Twindig Housing Market Index fell by 2.3% this week to 93.2 bringing to a close a four-week bull run. Housing market data points released this week were either robust or record-breaking. However, all the data points coincided with the first of two stamp duty holiday cliffs. The Stamp Duty Tax threshold was reduced from £500,000 to £250,000 from 1 July 2021 and will reduce back to a pre-pandemic threshold of £125,000 at the end of September.
Earlier this week Rightmove reported that asking prices had dropped slightly in August, the first fall so far in 2021, it is too early to tell if this is a sign of things to come, but stamp duty holidays are normally followed by a lull in housing market activity.
Rising house prices coupled with falling asking prices led many investors to ask if we have just passed a 'stamp duty holiday - housing market peak' and a level of activity that will not be supported by a less generous stamp duty holiday threshold.
FTSE 100 housebuilder Persimmon reported strong first-half results this week and remains confident about the outlook for the UK housing market. It has not only been selling more homes, but has also been growing its landbank suggesting that it is confident about the longer-term health of the housing market and expects to grow its business in the future.
The Land Registry reported record high house prices in June, but as already mentioned this coincided with the first of two stamp duty holiday cliffs.
In our view, the fall in the index this week is not a cause for concern, rather a reflection that records are very unlikely to be smashed each and every week. Not a case of what goes up must come down, but rather what goes up doesn't necessarily keep going up all the time.
Subscribe to Market Views