Twindig Housing Market Index 21 Jan 23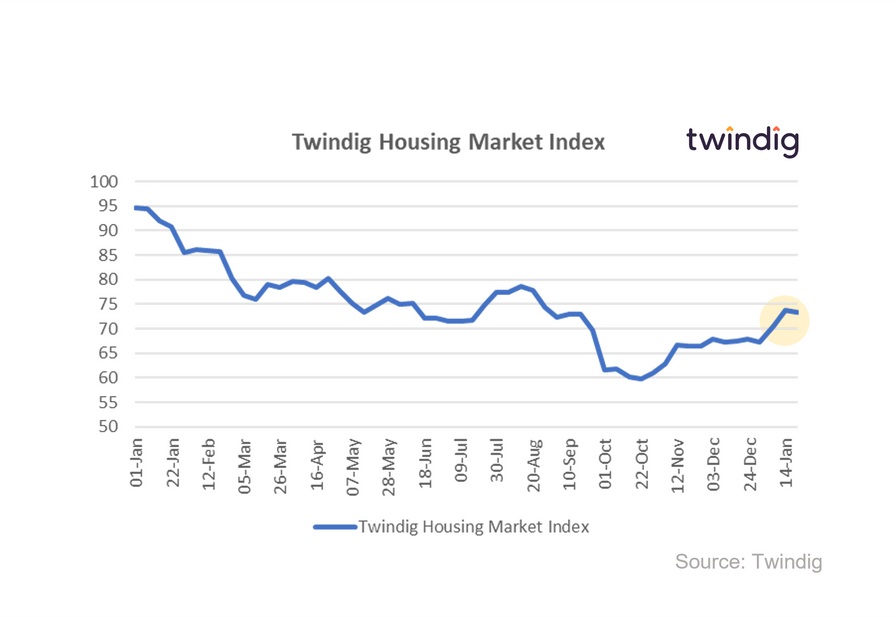 In the week that saw average house prices fall by £1,000 and London house prices stall the Twindig Housing Market Index nudged down by 0.4% to 73.4 this week.
This week's newsflow was chilly, Land Registry house price index falling, RICS reported that agents are seeing fewer home buyers and fewer home sellers and the Bank of England reported that lenders expect credit conditions to tighten in the three months to February 2023. We might not have enjoyed reading this week's housing market news, but across all the various sources, it was consistent.
The message coming across loud and clear is that the UK housing market is slowing down. This does not, in our view, mean that the housing market is about to crash, but rather that it will not be travelling at the frenetic pace we have seen over the last couple of years.
Investors are not taking fright and neither should we. In the face of the negative headlines the Twindig Housing Market Index only nudged down by 0.4%.
There was, however, one more sanguine voice to be heard this week that of housebuilder Vistry's CEO Greg Fitzgerald. He said that he was "encouraged by the first three weeks of the year" and said that (house) prices were firm, and that cancellation rates remained at less than 20%
Mr Fitzgerald likened the current market conditions to the pre-COVID-19 pandemic world of 2019 when the market was operating at a more normal level. Vistry shareholders appear to agree with him, at the time of writing, the price of Vistry's shares had increased by 20% since the start of the year.
Subscribe to Market Views