Twindig Housing Market Index (HMI) - 20 Feb 21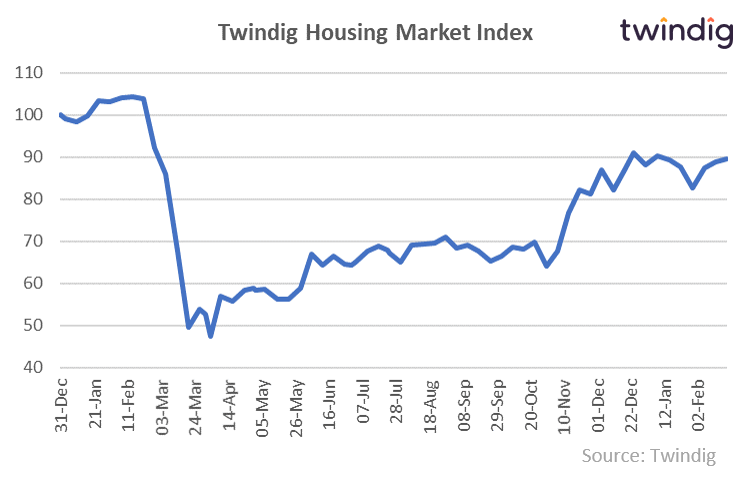 Steady as she goes for the Twindig Housing Market Index this week, a slight increase of 0.9% which nudged the index from 88.7 to 89.5. To put these values in context the index was launched with a value of 100.0 on 1 January 2020, reached a low of 47.4 on 3 April 2020 and has been on a broadly upward trajectory ever since. Investors confidence does not seem to be hampered by the 'Will he won't he?' question hanging over whether or not the Chancellor will extend the Stamp Duty Holiday when he presents his budget in March.
However, with a high level of mergers and acquisition activity in the UK estate agency sector, it is difficult to suggest that the UK housing market is under the weather and in need of further medicine. Average house prices have risen by almost £17,000 since the start of the Stamp Duty Holiday against a stamp duty tax saving of around £2,500, so homebuyers have actually been made worse off whilst home sellers better off. Interestingly, this has not put homebuyers off as the latest transaction figures from the Land Registry suggest that the volume of housing transactions increased by 20% in October 2020 and 52% higher than in the month before the Stamp Duty Holiday started. With rising house prices and rising transaction volumes, we expect that the Chancellor of the exchequer is starting to total up that much needed lost tax revenue.
Subscribe to Market Views