Twindig Housing Market Index (HMI) 19 Nov 22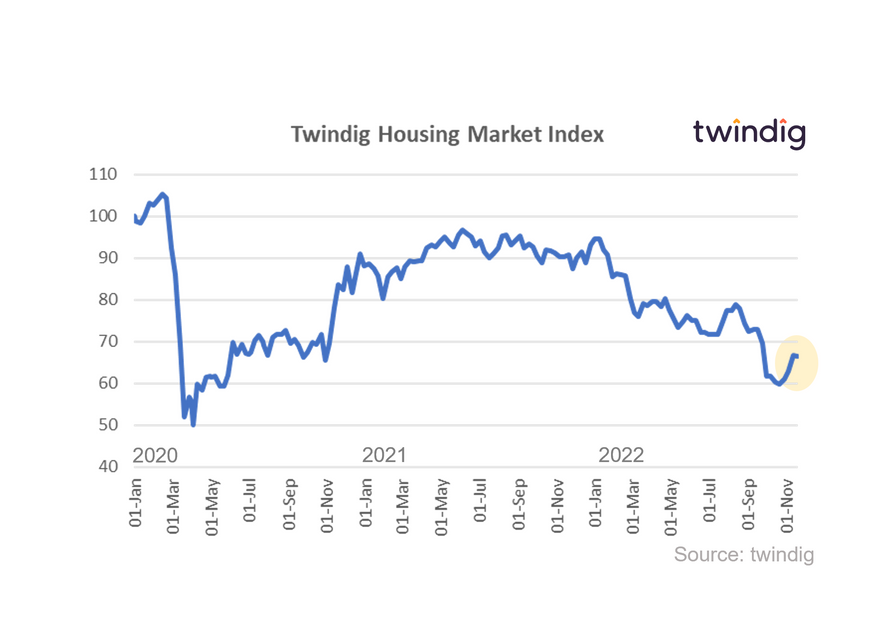 The wide-ranging Sunak/Hunt Autumn Statement had much less impact on residential investors than the September Truss/Kwarteng mini-budget. The Twindig Housing Market Index fell by just 0.3% this week to 66.5, whereas it fell by 4.5% in the week of the mini-budget and by 11.5% the week after the mini-budget as residential investors and financial markets took fright at Mr Kwartang's tax cuts.

Mr Hunt employed the opposite approach, spending cuts and tax rises to temper inflation, rather than expansionary policies to outgrow inflation. It seems that residential investors prefer Mr Hunt's approach to Mr Kwarteng's.

The independent Office of Budget Responsibility (OBR) forecasts that accompanied the Autumn Statement suggested that house prices will fall by 9% by September 2024. The OBR forecast is a lot less gloomy than many we have seen, most of which estimate house price falls of 10% next year rather than 9% over two years.

A fall of 9% would take house prices back to where they were one year ago, and this would still represent a 16% increase since the start of the COVID-19 Pandemic.

Mr Hunt also said that the Mini-budget's permanent stamp duty cut would become a stamp duty holiday ending on 31 March 2025. The Stamp Duty nil-rate threshold will, therefore, return to £125,000 from £250,000 in April 2025. On the same date, the nil rate threshold for first time buyers will reduce from £425,000 to £300,000.

In other news this week, the latest house price data from the Land Registry suggested that, overall, house prices fell in the UK in September. It appears to us that the house price party is finally over as the cost of living increases start to bite.
Subscribe to Market Views