Twindig Housing Market Index (HMI) - 17 July 21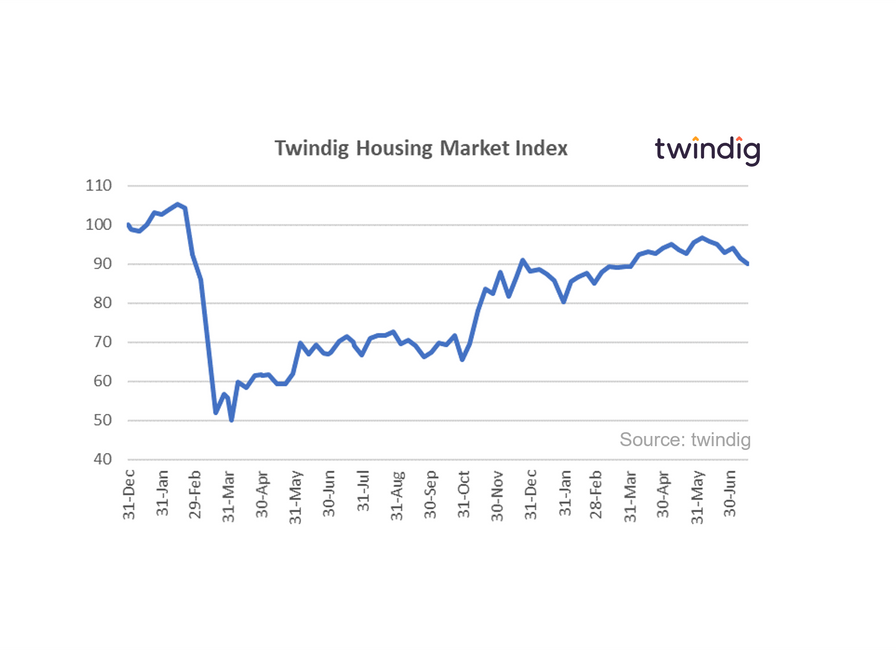 The Twindig Housing Market Index fell by 1.5% this week to 90.0, taking it back to levels not seen since the end of March this year. In our view, two issues weigh on investors' minds, leading to a fall in confidence in the market. The Bank of England Credit Conditions Survey suggested that lenders expect demand for mortgages to fall in the current quarter, even though those same lenders will be increasing the supply and lower the price of mortgages at the same time. The expected fall in demand ties in with the ending of the stamp duty holiday. Empirically demand has fallen immediately after the end of stamp duty holidays, reflecting the fact that many transactions were pulled forward to take advantage of the holiday.
The second issue is nervousness surrounding the impact of the so-called 'freedom day' on Monday 19 July. With COVID cases rising fast, the numbers of people self-isolating growing exponentially, and concerns about NHS staffing levels, for many, freedom day seems more like subjugation day. There are concerns that the economic recovery may take two steps back rather than one step forward in the short term and the uncertainty surrounding the outworking of freedom day has lead to a drop in investor confidence in the UK housing market.
Subscribe to Market Views