Twindig Housing Market Index (HMI) - 13 November 21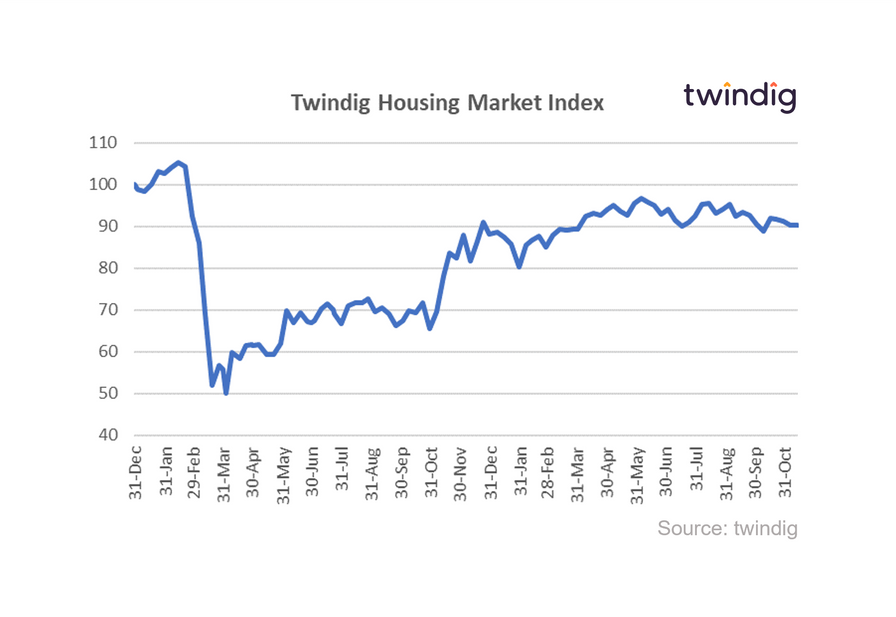 The Twindig Housing Market Index flatlined this week as COP26 struggled to keep 1.5 alive. Our housing market index nudged up ever so slightly by 0.2% to 90.4 this week as investors' eyes were more focused on Glasgow than the UK housing market.
Whilst we appreciate that the survival of our planet is more important than the shorter-term trends and signals in the housing market, the muted movement in the Twindig Housing Market Index hid what was a very strong week for UK housebuilders.
Barratt, Redrow, Taylor Wimpey and Vistry Group all issued trading updates this week and all reported that the housing market was in fine health and was expected to remain very healthy next year.
Strong, deep and wide forward orderbooks underpins the UK housebuilders confidence in the housing market. There is life after the stamp duty holiday and there is life after the reduction in scope of Help to Buy. Help to Buy was hardly mentioned by the housebuilders this week, this was a surprise to us given the rule changes in April and the fact that the scheme is scheduled to close in April 2023.
April 2023 may seem like a long time away, but housebuilding businesses are like oil tankers, decisions made now about the number, type and style of homes to be built will have big impacts on their performance over the medium term.
A quieter week for estate agents this week after the bombshell dropped by Purplebricks last week. Estate agent activity is starting to wind down after a very hectic stamp duty holiday and the estate agents we have spoken to are looking for a quite end to the year whilst they plan their form of attack and start to build their pipelines for 2022. Without the help of a stamp duty holiday competition for instructions will be fierce and all agents will be praying for the early signs of a strong spring selling season as we enter 2022.
Subscribe to Market Views