Twindig housing Market Index (HMI) - 10 Sep 2022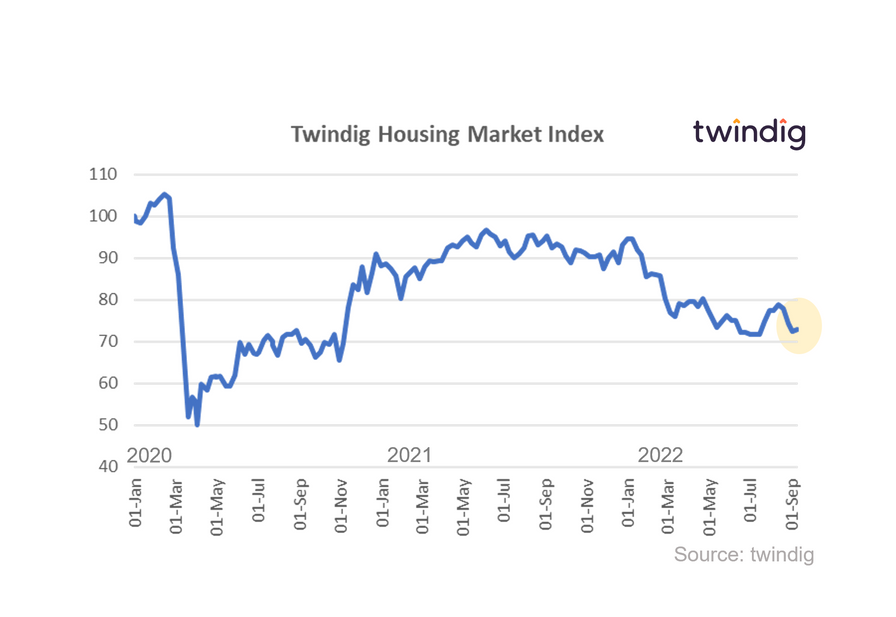 In the week that was rightly dominated by the passing of Queen Elizabeth, the housing market saw house prices reach another record high, mortgage rates rise, Housebuilder Vistry buying housebuilder Countrywide, Barratt Developments seeing sales rates slow, some estate agents calling time on the housing market, and a new Prime Minister moving into Number 10 Downing Street. Against this backdrop of news, Twindig Housing Market Index increased by 0.8% to 72.9 this week.

Estate agents are seeing fewer buyer enquiries and fewer homes coming on to the market for sale and Barratt Developments, one of the UK's largest housebuilders reported that its sales rates are slowing. This suggests that the number of housing transactions is likely to fall and therefore all those who make their money from housing transactions are likely to see their income fall.
This does not mean that the housing market is about to crash, but rather take a moment to catch its breath after a very prolonged period of heightened activity.
On a more positive note, whilst some are worried if now is the right time to buy a home, FTSE 250 housebuilder Vistry has announced it is looking to purchase Countryside (another large UK housebuilder). Vistry CEO Greg Fitzgerald has a strong track record of getting the timing and execution of big transactions right and it would be a brave person to bet against him. If Mr Fitzgerald thought the housing market was going to weaken significantly he would not have committed to such a big purchase, in our view.
For homeowners, the news that house prices are still rising amid all the economic doom and gloom must have been welcome news, although the latest RICS residential market survey revealed for many estate agents the housing market glass is starting to look half empty.
Subscribe to Market Views