Twindig Housing Market Index (HMI) - 8 January 22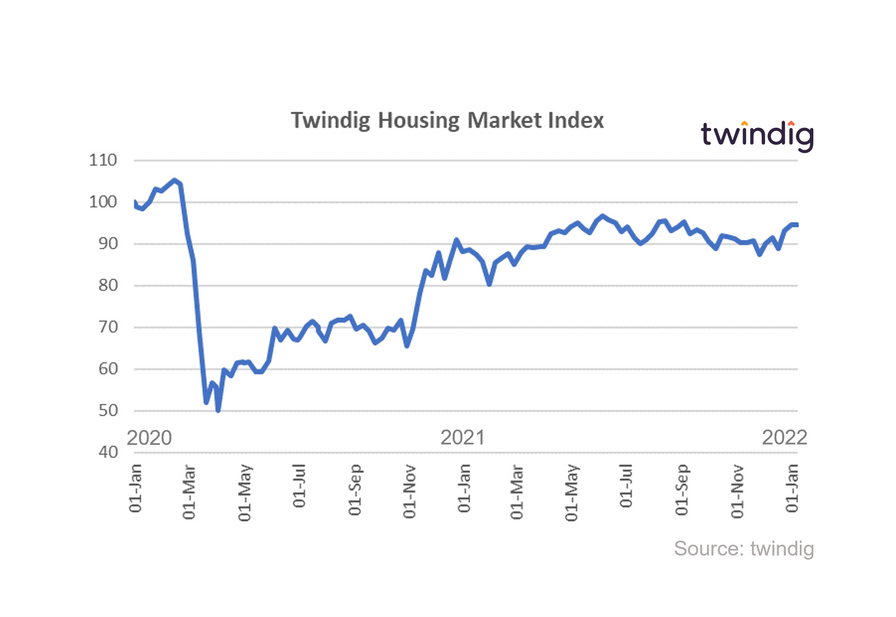 In the week where house prices reached (another) record high (their 8th of 2021), mortgage rates fell and mortgage approvals flatlined, the Twindig Housing Market Index paused for breath nudging down by 0.1% to 94.4 as investors eased themselves back into the daily round of common tasks.
Many were holding back from making any big calls for 2022 ahead of the reporting season of many of the big players in the UK housing market. Some of the UK's biggest housebuilders will be reporting year-end trading updates next week: Vistry on Wed 12th January and Persimmon on Thursday 13th January. We will be looking for the strength of the forward orderbooks and the interplay between house prices and build costs as an early heads up on the outlook for 2022 from the coalface.
At the start of next week (Monday) the Bank of England will release the latest mortgage rate data by LTV and at the end of the week (Friday) it will be publishing the next edition of its Credit Conditions Survey, which contains a summary of lenders expectations for the coming three months.
Plenty of potential next week for new data points to move investors confidence in the UK housing market. Twindig will keep you updated as news breaks. One thing we are sure of is that 2022 will be another interesting year for the UK housing market.
Subscribe to Market Views