Twindig Housing Market Index (HMI) 7 May 22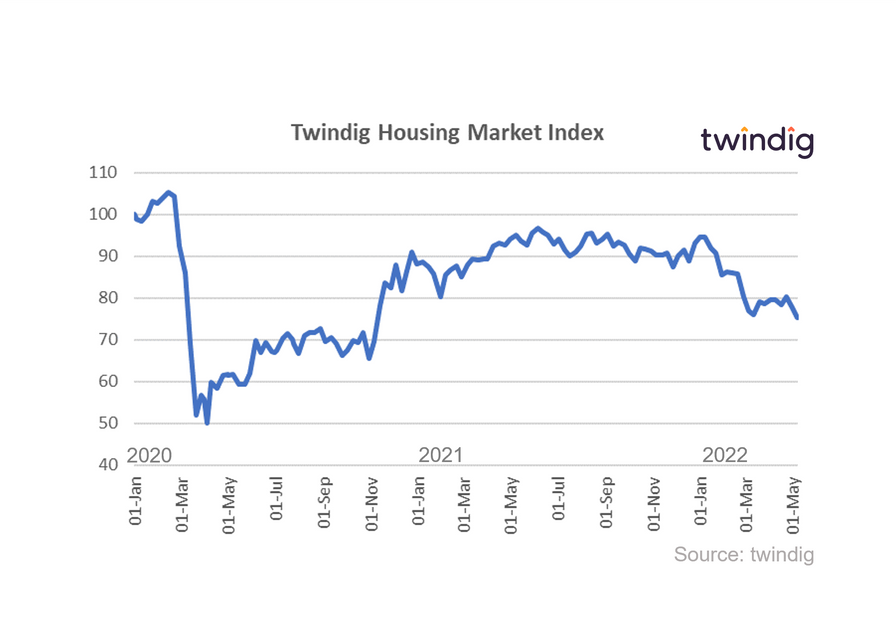 The Twindig Housing Market Index moved in the opposite direction of the underlying housing market this week. Perhaps a case of housing market investors heeding Warren Buffett's advice to 'Be fearful when others are greedy. Be greedy when others are fearful'. As house prices reached another, mortgage approvals held firm and housebuilder Barratt built even more homes, the Twindig Housing Market Index fell 3.0% to 75.3, its lowest level since 6 November 2020.
The Halifax reported that house prices rose in April for the 10th month in a row and that the monthly rate of house price inflation over the last year has been more than double the monthly rate of inflation over the last decade, leading some to ask if the UK housing market is overheating?

However, there are no signs of a slowdown just yet. Housebuilder Barratt reported robust trading in the first four-month of 2022 and is on track to deliver 4-6% volume growth in the year to 30 June 2022. Looking further ahead, at the start of May 2022 Barratt's forward order book was some 19% ahead of its position one year ago. It appears that mortgage and living cost increases have yet to dampen the enthusiasm of those in a position to buy a home.

The latest mortgage approval data also pointed to a stable housing market with approvals in March broadly unchanged from those in February and at a level which is 7% ahead of the long-run average.

However, mortgage rates leapt by around 10% in March and are likely to increase further as Bank Rate increases, although the increase in Bank Rate on Thursday did not spook housing market investors. Uncertainty is the enemy of confidence, and this week's increase was largely anticipated. The Bank of England also sought to manage future expectations by suggesting that Bank Rate is on a path to reach 2.5% by mid-2023.

Subscribe to Market Views