Twindig Housing Market Index (HMI) - 6 Feb 21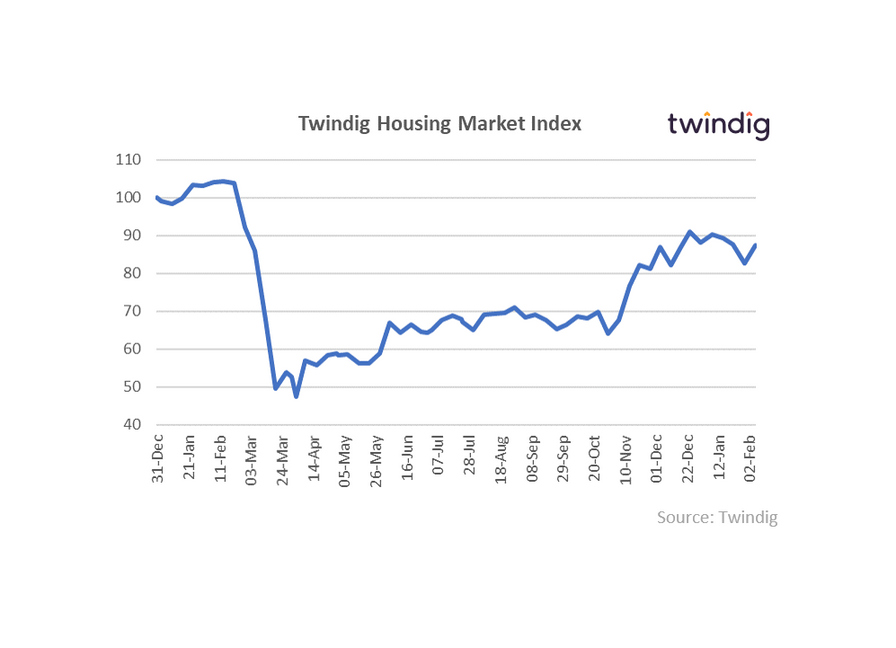 The Twindig Housing Market Index (HMI) rose by 5.8% this week from 82.7 to 87.5 as Barratt Development's record half-year results boosted investor confidence. We also learned that mortgage approvals in 2020 were at their highest level since the heady days of 2007, an incredible result given we are in the midst of the COVID-19 pandemic.
The Nationwide and Halifax reported this week that house prices slipped marginally in January as homebuyers got to grips with the fact that their house purchases may not complete before the end of the stamp duty holiday on 31 March 2021. However, where contracts have yet to be exchanged, there is always the opportunity for price renegotiation. Average house prices increased by more than £1,000 per month over the last 12 months and with the average stamp duty saving at risk being just of £2,500, we believe the chances of successful completion after the holiday are high. London based estate agent Chestertons has already reported that 10% of its sellers have already lowered their prices to keep buyers on board as the stamp duty holiday headline approaches.
The UK Government debated extending the Stamp Duty holiday this week. There was no movement or change in policy, but all seemed to agree that the Stamp Duty Tax system needs to be reformed. Reform however is easier said than done and our analysis of the much-discussed proportionate property tax suggests that whilst it is more affordable, it is also more expensive.
Subscribe to Market Views