Twindig Housing Market Index (HMI) - 5 March 22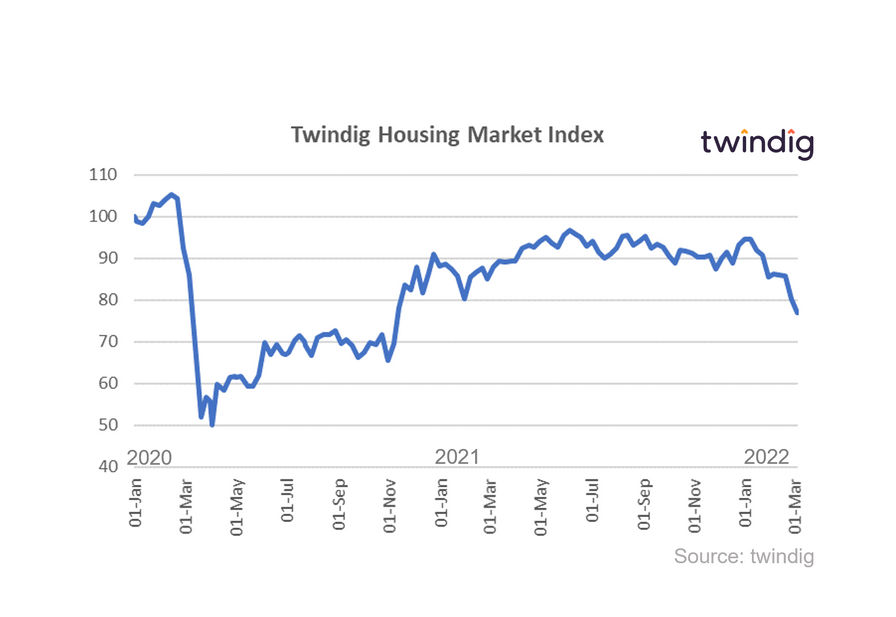 This week was a stark reminder that the UK housing market does not operate in isolation from the wider, global economy.

In the week that surprisingly saw house price inflation accelerate, the Twindig Housing Market Index fell by 4.3% to 76.8, its lowest level since 6 November 2020 as the potential housing market implications of the war in Ukraine weighed on property market investor's minds.

Aside from the ramifications of Russia's war on Ukraine, this week was a positive week for the UK housing market, more positive, in our view, than investors gave it credit. Foxtons, the bell-weather of the London housing market was so much on the front foot that its feet outpaced its brace of brightly coloured minis. With lockdown in the rearview mirror, the London housing market is full steam ahead.

Housebuilders Persimmon, Taylor Wimpey and Vistry all released their full-year results this week, and whilst the results themselves had been heavily flagged in their earlier trading updates, all were positive about current trading and the outlook for the housing market. All three were also buying more land, so their walk was definitely matching their talk.

Accelerating house prices, whilst creating challenges for some point to the underlying confidence in the housing market by the many. However, some investors are concerned house price rises today are setting the scene for house price falls tomorrow. We appreciate that housing affordability is stretched for many aspiring first-time buyers, but given the current momentum of the housing market, we would not place a big bet on a major correction of house prices in the near future.

We noted that new business mortgage rates flatlined rather than increased in January following the recent hikes in Bank Rate, suggesting that the mainstream lenders are seeking to build market share and are sanguine about the outlook for the UK housing market.
Subscribe to Market Views