Twindig Housing Market Index 3 Dec 22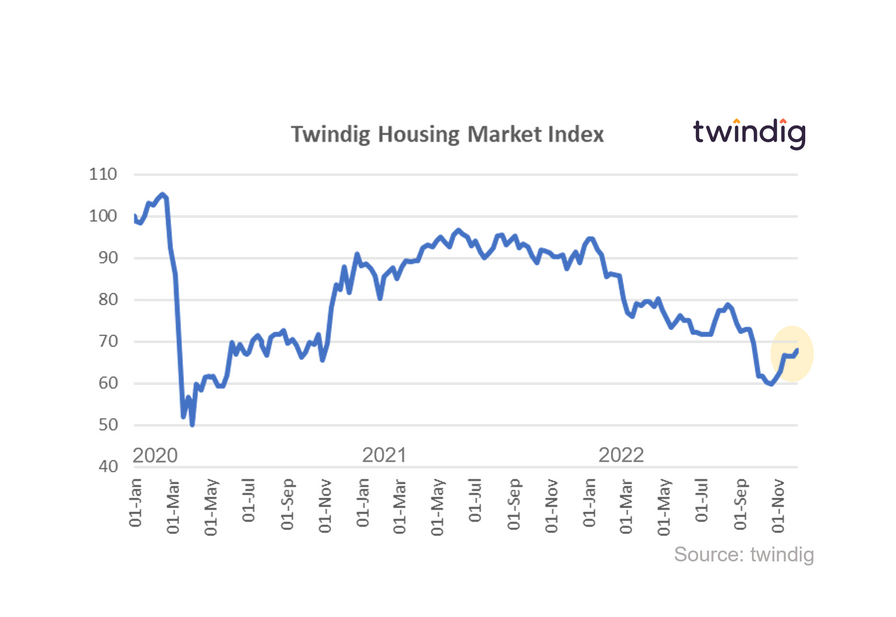 In the week that saw house prices fall for the third month in a row, mortgage approvals fall by 10% and mortgage rates rise by 10% the Twindig Housing Market Index rose by 2.3% to 67.9.
At first glance, it seems a little counter-intuitive that the Twindig Housing Market Index strengthened whilst housing market indicators weakened, but residential investors are choosing to look ahead rather than back.
The drop in mortgage approvals combines several factors, including the initial impact of the disastrous September mini-budget, which claimed the scalps of both the Prime Minister and her Chancellor; and rising mortgage rates which make it more difficult for homebuyers to secure a mortgage of any given size. Both of which paint a gloomy picture. However, investors are looking past the mini-budget. The November Autumn Statement repaired some of the damage caused by the mini-budget and has changed the future path of interest and mortgage rates. The rate of growth of mortgage rates will be slower and the peak in mortgage rates lower than we had previously thought. This adds up to a net positive for residential investors.
The drop in mortgage approvals implies there will be a reduction in the number of housing market transactions, fewer people will be moving home, and if a home isn't sold, its price doesn't change. Most people buying a home also have one to sell and if they are not buying - both the demand for homes and the supply of homes for sale reduces, and therefore house prices do not fall as much as they might have done if the supply of homes for sale had been greater. This is a case of the housing market protecting itself from a potentially more significant downturn.
Subscribe to Market Views