Twindig Housing Market Index (HMI) - 2 October 21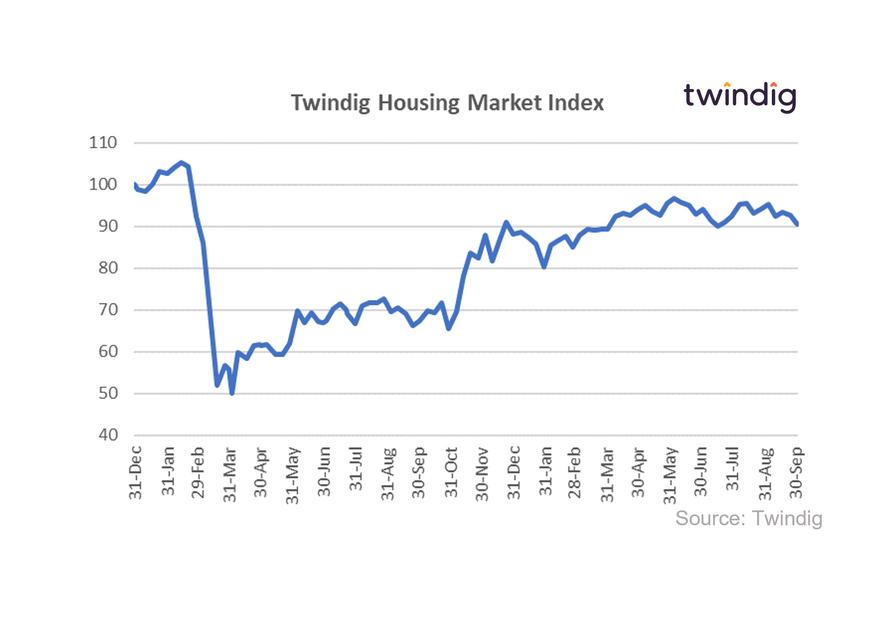 The Twindig Housing Market Index fell by 2.3% this week to 90.4, its lowest level since 17 July 2021.

The ending of the Stamp Duty Holiday and the furlough scheme were on investors minds as we went to print. Interestingly, confidence fell by 5% concerning housebuilders and nudged up by 0.7% for estate agents. We would have thought the end of the stamp duty holiday would impact estate agents more than housebuilders as estate agents face a shortage of stock and have to get by without help to buy. Meanwhile, housebuilders are in control of their stock levels and around one in three of their home's are sold to homebuyers taking advantage of help to buy.
October will be an interesting month for the housing market as it gets to grips with life without the stamp duty holiday. We expect to see a lull in activity for the remainder of the year before a pick up in time for the spring selling season next year.
The Bank of England reported this week that mortgage rates continue to fall as lenders seek to take market share in what might be a quieter autumn, which will benefit those looking to remortgage before Christmas.
House prices remain the elephant in the room. The Nationwide reported this week that house price growth stalled in September. This is not a surprise given the ending of the Stamp Duty holiday, but it remains to be seen if this is a pause for breath or the start of the stamp duty holiday bubble deflating. We would not advise reading too much into one month's data, but we might be moving from a seller's to a buyers market.
Subscribe to Market Views