Twindaq the future of home ownership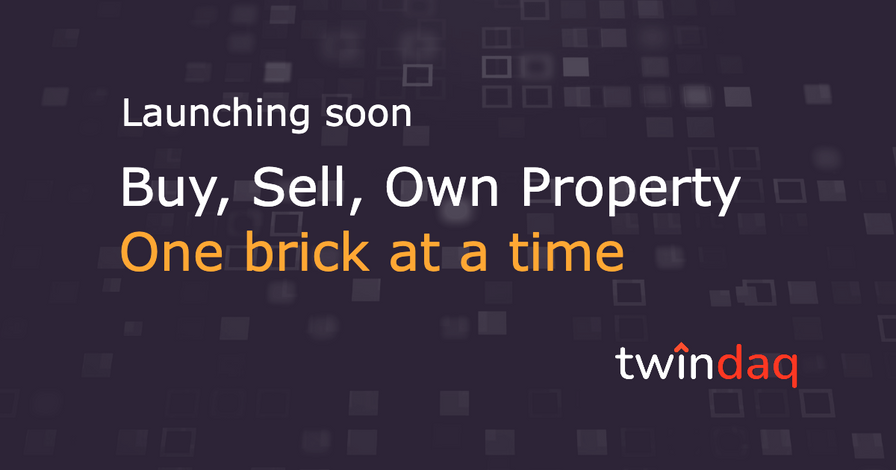 What is Twindaq?
Twindaq aims to offer a new way to put money in and take money out of the housing market, where you can buy or sell a share in a property from as little as £1.
Twindaq is seeking to change the face of homeownership, by allowing you to buy, sell or own property one brick at a time. In reality, you are buying shares in property rather than buying, owning, and selling bricks, just as you would buy shares in a company such as Tesco or Vodafone.
Just as you buy and sell shares in companies on the stock market Twindaq aims to build a stock market where you buy and sell shares in residential property.
How will Twindaq help me?

Twindaq removes the need for a big deposit, a high income, or a large mortgage to start putting your money into the housing market and offers a debt-free way to release the equity you may already have in your home.

Twindaq aims to provide three things:
A new way to help you build your deposit by putting money in the housing market rather than a low-interest savings account
A new way to easily spread your investment in property across multiple properties
A new, debt-free, way to release equity in your home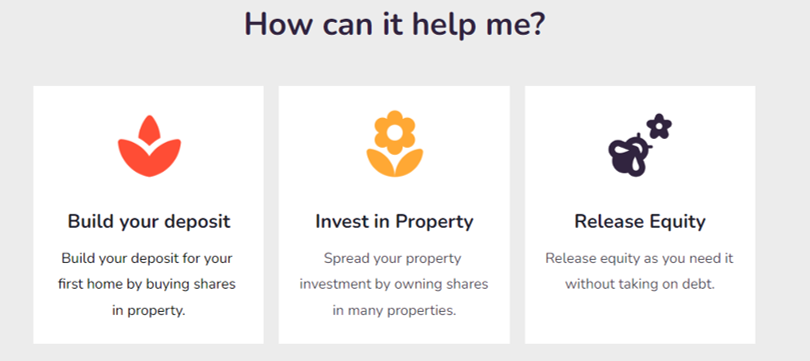 Build your home deposit with Twindaq
First-time buyers are often frustrated when saving their hard-earned cash for a home deposit, house price inflation is often higher than the interest rate on their savings account making it difficult for their deposit to keep pace with house prices.
Twindaq's ambition is to allow first-time buyers (or their parents, or grandparents) to build their deposit by putting money into the housing market, by buying shares in houses. Twindaq believes that a deposit built in the housing market is more likely to track the value of the housing market than a typical savings account.
Currently, the only way to put money directly into the housing market is to buy a house, and for most this requires a big deposit, a large income, and a large mortgage. It is getting harder and harder for aspiring homeowners to step onto the housing ladder and Twindaq aspires to make it much easier.
Invest in property with Twindaq
Many people aspire to invest in property, but fewer and fewer have enough cash to buy a home and more and more landlords are looking to exit the buy-to-let market. Twindaq can help both aspiring property investors and frustrated landlords.
Helping aspiring property investors
Buying a property is a big commitment and ties up a very large amount of money in one asset. Twindaq aims to offer property investors the ability to invest in property from as little as £1 and the ability to spread their investment over multiple properties to spread their risk. Just as you wouldn't invest your entire pension in one company Twindaq believes it is wise to spread your property investment over many properties of different sizes and in different locations.

Newspapers love to talk about whether house prices are about to rise or fall. The housing market is a very complicated and intricate market based on sentiment as well as fundamentals.

Putting a lot of money into the housing market on a single day is risky, and house prices might be about to go down. Wise investors and pension funds use the strategy of 'pound cost averaging', your monthly pension contributions purchase bonds and shares each month reducing the risk of investing all your money at the top of the market.

House prices do go up as well as down and homebuyers often lose out as house prices are rising whilst they are saving for their deposit, arranging their mortgage, or waiting for the right house to come onto the market. Twindaq reduces the risk of missing out on a rising market allowing you to put money into the housing market as you can afford to rather than having to wait until you have all the money and the right house in the same place at the same time.

Helping Buy-to-Let investors
Tax breaks on buy-to-let investments are falling whilst at the same time, the number of regulations and the volume of paperwork is rising.
Twindaq believes it can offer a much less arduous approach to property investment than traditional buy-to-let investing. Property investment without repairs, maintenance, and void periods. combined with the benefits of a much more diversified property portfolio and should you choose to exit or reduce your exposure you can sell shares in properties rather than having to sell a whole property and get involved in property chains.
Easy equity release
In our view, equity release is a misleading term, we believe that 'taking on debt' is a more appropriate name for equity release. Equity release is essentially a loan secured on your home.


Twindaq believes that it is absurd that to release housing equity you have to take on debt. Twindaq seeks to allow homeowners to release equity by selling shares in their property. No debt required. This allows the homeowner to enjoy the wealth they have built up in their home without having to move out or take on debt and interest payments, whilst at the same time offering others the chance to invest in residential property.

A new help to buy?
The Government's New Build Help to Buy scheme closes for new purchases in October 2023. It has been a very successful scheme, accounting for around one in three new home sales, but it is unlikely to be replaced.


Twindaq's vision is to offer a solution similar to Help to Buy to the whole market, not just the market for new build homes, where those wanting to save for their own deposit or invest in property can do so by being a surrogate bank of mum and dad to those buying their first home.

In this way, savers, homebuyers, and property investors are all on the same side, playing for the same team and helping each other to realise their property dreams.


Want to find out more about Twindaq?
To find out more about Twindaq you can join their waitlist, by clicking the button below
Subscribe to Market Views