Purplebricks for sale?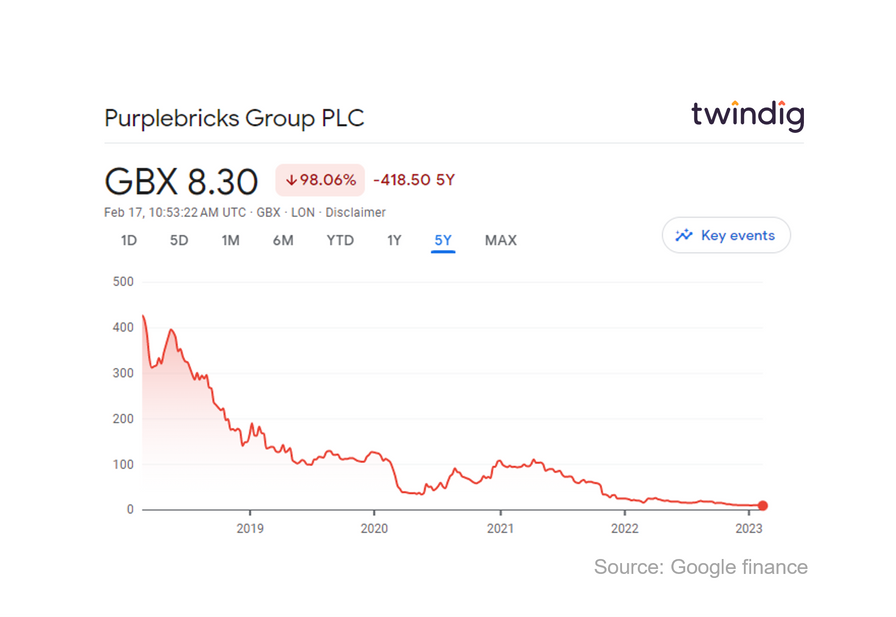 Purplebricks issued a profit warning this morning and revealed that it has decided to conduct a strategic review. The term 'strategic review' is often used in the city as code for 'up for sale'. If this is the case, will Purplebricks seek to disrupt the banking market by offering to pay a fixed fee whether or not the bankers are able to sell the company?
Disrupting the market with a fixed fee
Whilst the share price graph above looking at the last five years is one of terminal and consistent decline, it is perhaps difficult to remember that initially, Purplebricks was the darling of the stock market and many believed that its different approach would change the way we buy and sell houses forever.
It was thought for a time that Purplebricks would become the biggest agent in the country and that traditional agents would find that innovation had rendered their businesses no longer fit for purpose.
That view held significant sway until early 2018, as the share price chart below shows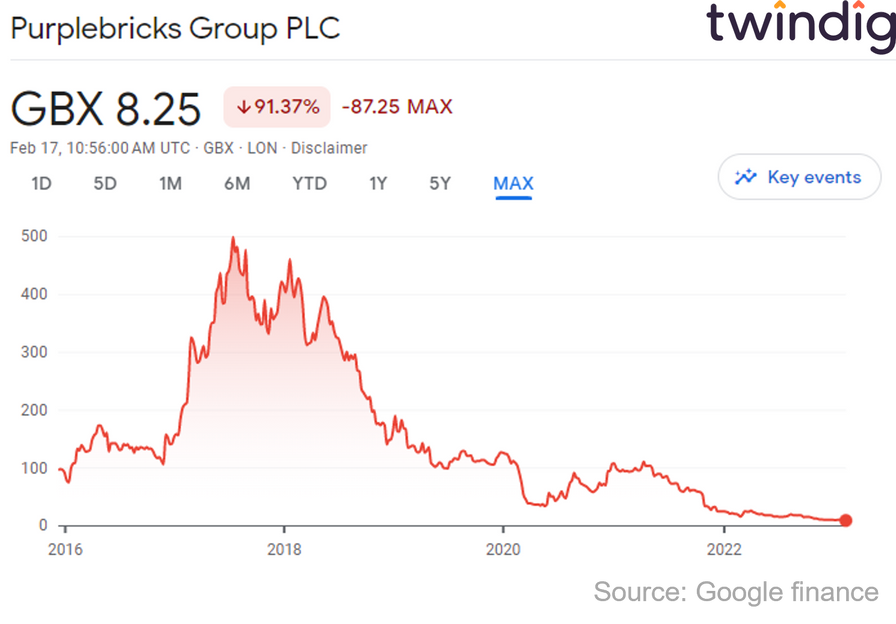 But should the buyer beware?
My view had always been the opposite and in February 2018 whilst at Jefferies, I wrote a note called 'Buyer Beware', where I questioned the logic and sustainability of Purplebrick's business model.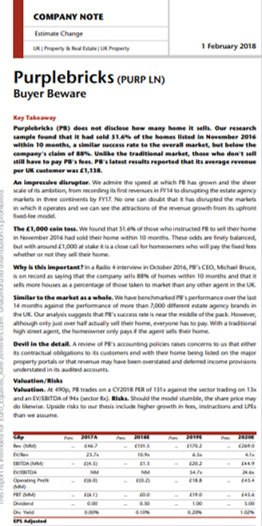 The research found that many people were paying a fee to Purplebricks, but not selling their homes, actually around 50%, so we likened the model to a £1,000 coin toss:
The £1,000 coin toss
The £1,000 coin toss. We found that 51.6% of those who instructed PB to sell their home
in November 2016 had sold their home within 10 months. These odds are finely balanced,
but with around £1,000 at stake it is a close call for homeowners who will pay the fixed fees
whether or not they sell their home.
Who are the best estate agents?
I continue to believe that the traditional estate agency fee model works well and has passed the test of time. Just as you pay for your food in a restaurant only after you have eaten it, so it makes sense to pay an agent for selling your home once they have sold it.
A restaurant would not stay in business for long if you paid upfront, but only 50% of their customers actually got their food, and perhaps the same is true for estate agents.

The best agents are those who are well connected with their local markets, and know who the buyers are, but not just who, their needs, desires, timelines, financial situation and pinch points.
Despite what we all sometimes believe, you don't sell your home just by putting it on Rightmove or Zoopla, and few of us would trust a cut price service when dealing with our most valuable assets.
Has Purplebricks purple patch finally faded?
Is this game over for the fixed-fee online agents? I don't think so. Around 10% of home sales are completed without an agent, either the buyer and seller are already acquainted or the owner chooses to sell the home without an agent.
I believe that the fixed fee market works well for the 'for sale by owner' market who are looking for the cheapest way to list their home on the property portals but are not expecting the 'agent' to do the heavy lifting. I believe that the problem facing Purplebricks is that they thought their offering was for the mass market when ultimately it only appealed to a niche market and they have been chasing the wrong market for too long.
I hope that during the course of their strategic review, they find their way and that they are able to negotiate a nice low fixed fee with their advisors.
Subscribe to Market Views