Can OnLadder get you on the housing ladder?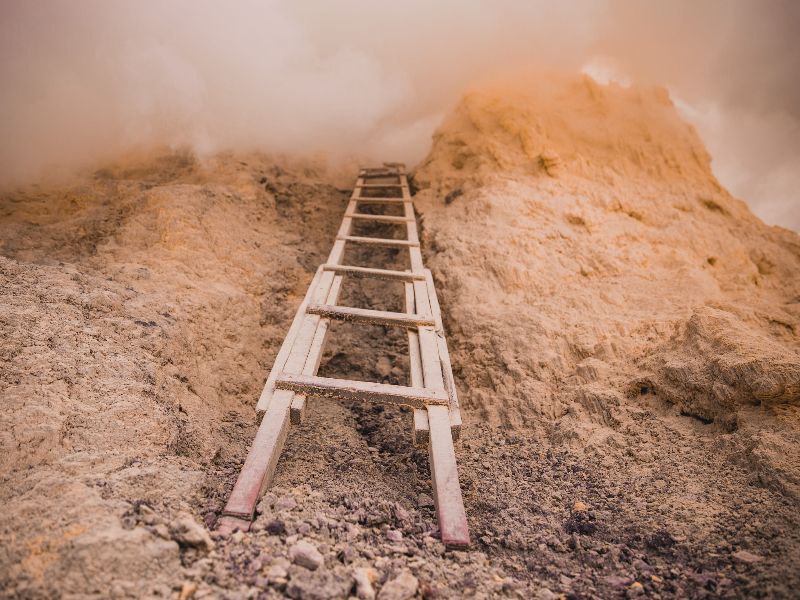 What is OnLadder?
OnLadder is one of the latest startups trying to solve the first-time buyer affordability problem. The idea is that OnLadder helps you get on the housing ladder.
What problem is Onladder trying to solve?
OnLadder is seeking to solve the deposit problem. When buying a home mortgage lenders are keen for the homebuyer to have some skin in the game. The lender does not want the mortgage to cover 100% of the purchase price. The gap between how much the mortgage company will end and the price of the home is the deposit gap. The homebuyer needs to provide a deposit to fill that gap. The problem is that the deposit gap is often very large indeed and we are increasingly seeing that if a first-time buyer does not have help from the Bank of Mum and Dad, they are unlikely to be able to secure a deposit large enough to fill the deposit gap.
How does OnLadder fill the deposit gap?
OnLadder aims to provide first time buyers with a deposit loan. OnLadder will loan you the deposit you need to help you get on the property ladder. The deposit loan is a form of second charge mortgage.
Will OnLadder provide all of my deposit?
No. You will need to have saved up or provide a 5% deposit. If the home you are looking to buy costs £200,000 you will need a deposit of £10,000.
How does OnLadder work?
OnLadder Step 1: Get pre-approved
Like many lenders OnLadder will need to ask you a few questions about your financial position, income, expenses, current financial assets and debts to check you meet their lending criteria.
OnLadder Step 2: Make an application
Once pre-approved OnLadder will contact you to tell you all you need to know about OnLadder loans and if after that discussion you are keen to move forward you will officially apply to OnLadder for an OnLadder loan.
OnLadder Step 3: Deposit Agreement
OnLadder will ask you for some documents and draw up a deposit agreement, detailing the legal and contract terms and conditions between you and OnLadder. The OnLadder deposit agreement will also provide you with a mortgage in principle letter which can be shown to a mortgage lender as proof of deposit when you apply for your main mortgage
OnLadder Step 4: Find a home
As OnLadder will essentially be buying the home with you, once you have found your dream home you will need to run it past them first to check that it meets their OnLadder loan criteria. If everything stacks up with OnLadder and your mortgage provider you can go ahead and buy the home.
OnLadder Step 5: Pay back your OnLadder loan
OnLadder aims to be flexible about how you pay them back. You can plan to re-mortgage when your initial fixed term mortgage comes to an end (typically 5 years) or you can set up a voluntary payment plan or move to another home and share the sale proceeds with OnLadder.
Is OnLadder like Help to Buy?
Yes and no. Yes, it provides equity loans to help you buy a home. No, it is not a Government-run scheme and the costs to the homebuyer are likely to be higher than the Government-run schemes.
Can I buy a new home with OnLadder?
Yes, OnLadder is open to new and existing homes as long as the home itself meets OnLadder's lending criteria. This is good news as Help to Buy is scheduled to come to an end in April 2023 and OnLadder will provide an alternative homebuying solution to Help to Buy.
How much does it cost to use OnLadder?
Onladder's deposit loans are a form of second-charge mortgage. The main cost of Onladder is that in return for providing a deposit loan for a certain percentage of the purchase price you will pay them back a higher percentage.
If you have a 10.0% OnLadder deposit loan when you decide to pay them back you will pay back 13.3% of the latest value of the home.
If OnLadder lends you £10,000 on a £100,000 house and when you repay the home is worth £200,000 you will pay back £26,667. This comprises the original 10% (which is now worth £20,000) plus the uplift (£6,667)
The 33.3% uplift is phased over 5 years increasing in equal instalments
If you take an OnLadder loan at 15% the amount you pay back will be as follows:
Year 1: 16%
Year 2: 17%
Year 3: 18%
Year 4: 19%
Year 5 onwards: 20%
After year 5 OnLadder's percentage does not increase anymore.
There is likely to be a set-up or product fee to use OnLadder, these details will be released when OnLadder officially launches its OnLadder loans
How much interest does OnLadder charge?
OnLadder has no monthly interest payments. You simply pay the OnLadder loan back when you want to. Of course, there is no such thing as a free lunch. OnLadder makes its money by sharing the uplift in house prices whilst you have your loan and over the first five years of the OnLadder loan OnLadder's ownership of your home increases by 33%. This means if you borrow an OnLadder loan of 10% of the value of your home after five years OnLadder will own 13.3% of your home.
When will OnLadder launch?
OnLadder is currently building out its business. No launch date has been announced, but we will keep you posted. The OnLadder team is working hard to launch as soon as possible, but delivering innovative home purchase products inevitably takes a long time.
How is OnLadder financed?
OnLadder recently secured £275,000 of funding to help it build the business and secure its regulatory (FCA) approval. Once the regulatory approval is secured we would expect OnLadder to raise more money to launch and grow the business.
Where do the OnLadder loans come from?
OnLadder has not disclosed the source of its funding, but, in our view, it is very likely that the initial OnLadder loans will be financed by some heavy weight blue-chip financial institutions.
Is OnLadder a good idea?
OnLadder has been designed to help those who are unable to secure a large enough deposit to get on the housing ladder.
Everybody's financial circumstances are slightly different and so there are no 'one-size fits all' solutions when it comes to buying your first home.
Whichever method of buying a home you are considering, we would always recommend that you seek independent financial advice from a professional. They will help you choose the mortgage product that is right for you.
Is OnLadder regulated?
Not yet, although Onladder is seeking authorisation from the FCA. OnLadder recently (April 2022) raised £275,000 from Angel Investors to help them continue through the FCA authorisation, cement strategic partnerships and to build out its initial operations.
Who founded OnLadder?
OnLadder was founded by Cam Orcutt and Sam Hatley. Cam describes himself as a recovering accountant who is passionate about helping First Time Buyers. Sam describes himself as a product professional with an entrepreneurial mindset.
Who else is on the OnLadder team?
OnLadder has an impressive team of non-executive and advisors which includes
Jackie Bennett OBE, who is a non-executive director of OnLadder, a senior advisor for UK Finance specialising in Personal Finance, a non-executive of the New Homes Quality Board and is currently chair of the Bank of England's Residential Property Forum
Paul Rippon, is an advisor to and an investor in OnLadder. Paul is currently the Chairman of GB Bank, an alpaca farmer and was co-founder of Monzo Bank
Richard Tugwell, is an advisor to OnLadder and currently director of mortgage distribution at Vida Homeloans
Julian D'Arcy, is an advisor to OnLadder and brings more than 25 years of experience within the UK property market. He is a Principal at Foundation Real Estate and was a founding member of Knight Frank's residential and investment division.
Mark Prisk, is an advisor to OnLadder. Mark is the chairman of Saltaire Housing and former Minister of State for Housing where between 2012 and 2013 he launched a build to rent fund and oversaw the launch of Help to Buy.
Subscribe to Market Views