House prices fall by £5,500 in October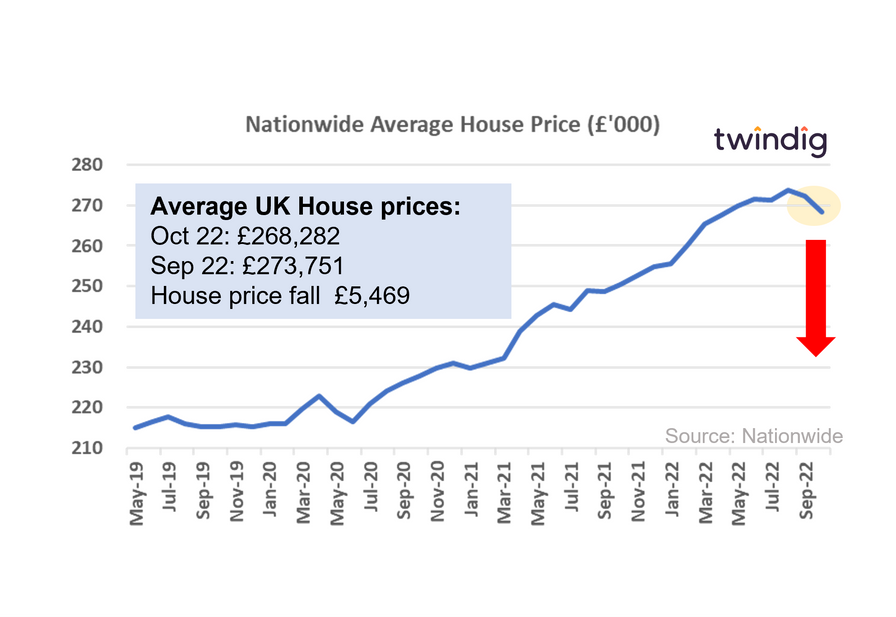 The Nationwide released its house price index for October today
What the Nationwide said
Average house price in October 2022 was £268,282
House prices fell by 1.5% or £5,469 in October (although the fall was 0.9% after tracking into account seasonal factors)
Annual house price inflation 7.2%
Twindig Take
After Lloyds Bank suggested that house prices may fall by 8% next year, the Nationwide reported today that house prices fell by 1.5% in October alone, the biggest fall since June 2020 (the fall that led the then Chancellor Rishi Sunak to launch the COVID-19 Stamp Duty holiday).
The question on many people's lips: was the fall caused by the now reversed mini-budget, or is this the start of a much larger downward house price slide?
During October the housing market had to absorb the contents of the mini-budget and recalibrate its estimates for the future path of interest rates.
Nationwide comments today that:

"The market looks set to slow in the coming quarters. Inflation will remain high for some time yet and Bank Rate is likely to rise further as the Bank of England seeks to ensure demand in the economy slows to relieve domestic price pressures."

There are certainly challenges ahead, but the reversal of most of the mini-budget has calmed the nerves of the financial markets and the expected path of interest rates has softened since the appointment of Rishi Sunak as Prime Minister.

Whilst we can see more grey clouds than blue skies in the macroeconomic environment, unemployment remains very low and the demand for homes continues to outweigh the number of homes for sale which supports and underpins house prices. Rising energy costs, food bills and mortgage rates are starting to take their toll on house prices, but it is worth remembering how far house prices have come since the start of the COVID-19 pandemic. The Nationwide House Price Index suggests that average house prices in October 2022 were more than £52,000 (24%) higher than they were before the first lockdown.
Worried about your mortgage payments?
In these challenging times, increasing numbers of homeowners are worried about how they will be able to afford their mortgage as interest rates rise. You can use our mortgage calculator to see how a change in mortgage rates might impact you
We have also put a guide together looking at ways you can reduce your monthly mortgage payments
Subscribe to Market Views