House prices: Life continues after the stamp duty holiday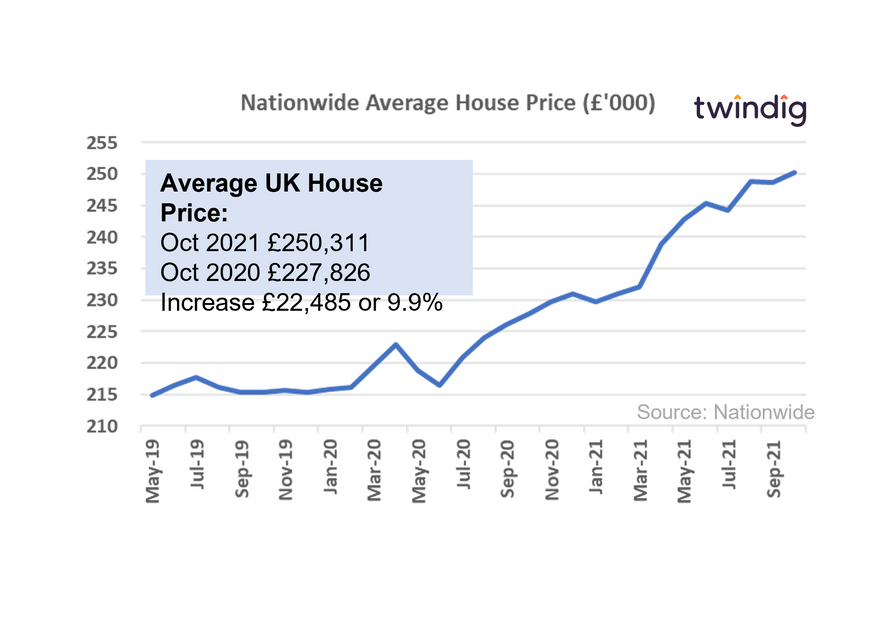 The Nationwide published their house price index for October this morning
What they said
Average UK house price £250,311
An increase of £22,485 or 9.9% over the last year
House prices up by more than £30,000 since the pandemic began
Twindig take
Today's house price index from the Nationwide shows that there is still life in the UK housing market after the end of the Stamp Duty Holiday. Average house prices rose by almost £1,600 in October suggesting that fears of a Stamp duty Cliff were unfounded. Stock levels remain constrained and mortgage approvals above normal levels and whilst this remains the case further house price growth is likely, in our view.
The Nationwide believes that outlook for house prices remains uncertain. On the plus side wages are rising and there appears the COVID-19 and lockdown related shifts in housing preferences, the so called 'race for space' continues.
On the downside, it is not clear yet how the wider economy will respond to the changes in Government support measures such as furlough and universal credit and the well-publicised and increasingly painfully felt increases in living costs may take the wind out of the housing markets sails.
The Nationwide shares our view that the near term impact on house prices from any increases in interest rates will be muted due to the high levels (just over 80%) of mortgages being fixed rather than variable-rate ones, a welcome relief as other living costs rise. You can read our full analysis we published yesterday here in our article Why rising mortgage rates might not hurt you
Subscribe to Market Views