House price fall hat-trick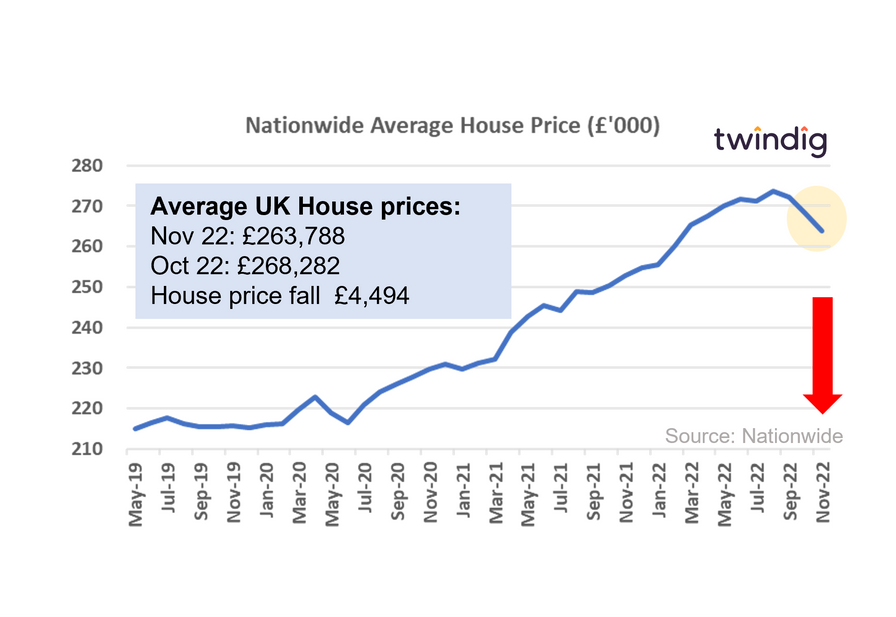 The Nationwide released its house price index for November today
What the Nationwide said
Average house price in November 2022 was £263,788
House prices fell by 1.4% or £4,494 in November the biggest fall since June 2020
Annual house price inflation fell to 4.4% down from 7.2% in October 2022
Twindig Take
House prices fell for the third month in a row in November according to the Nationwide Building Society. From their peak in August 2022 of £273,751, average house prices have fallen by £9,963 to reach £263,788 in November as temperatures cool in the UK housing market.

The upward momentum in mortgage rates and living costs appears to have finally caught up with the UK housing market and is manifesting itself in lower house prices.

With further bank rate rises on the cards and no let up for the time being in living costs, we are likely to see further house price falls in the coming months.

However, at £263,788 average house prices are still more than £47,000 or 22% higher than they were at the start of the COVID-19 pandemic. This means that the overwhelming majority of homeowners are sitting on a sizeable housing equity cushion despite the recent falls in house prices.

If house price growth since January 2020 had been in-line with longer-term house price growth trends, we estimate that average house prices would be £255,000, which is around 4% lower than current levels, but 18% ahead of their pre-pandemic levels.

We must also remember that despite the UK Government's repeated calls for restraint wage increases are starting to come through (especially when demands are linked to strike action..) and our mortgage capacity is linked to our wages. Therefore if wages rise, pressures on house prices tend to be up not down.

In conclusion, whilst house prices are likely to continue to fall in the coming months we do not envisage seeing a house price crash and we would be surprised if house prices fell below their pre-pandemic levels as this would imply bigger house price falls than seen during the Global Financial Crisis.
Worried about your mortgage payments?
In these challenging times, increasing numbers of homeowners are worried about how they will be able to afford their mortgage as interest rates rise. You can use our mortgage calculator to see how a change in mortgage rates might impact you
We have also put a guide together looking at ways you can reduce your monthly mortgage payments
Subscribe to Market Views