Double digit house prices rises bringing early Christmas cheer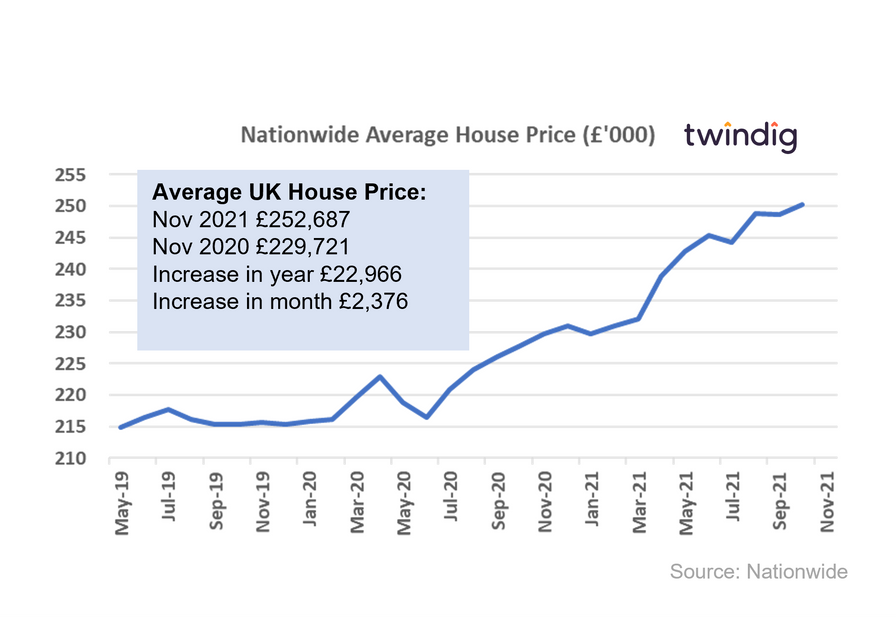 The Nationwide published their house price index for November this morning
What they said
Average UK house price £252,687
Annual house price inflation 10.0%
Increase in house prices last month £2,376



Twindig take
Another month of double-digit house price inflation will certainly put some sparkle into this year's Christmas lights bringing some much needed early Christmas cheer as we step into advent after another tough and challenging year. Continued strong house price inflation following the end of the stamp duty holiday will be welcome news for those who bought during the stamp duty holiday, but frustrating news for those who just missed out on the deadline.

In our view, the continuing positive house movement reflects several factors:

A shortage of homes for sale continues to underpin house prices and this is unlikely to change in the run-up to Christmas. Homebuyers and agents will be hoping for a strong spring selling season as the start of 2022

A robust labour market, the Nationwide points out that the labour market that is holding up well despite the ending of the furlough scheme

Mortgage availability and pricing mortgage rates remain competitive which aids affordability in the face of rising house prices.

Looking ahead it is too early to tell the impact of the Omicron COVID-19 variant on the wider economy and if the Bank of England raises Bank Rate to try and curb inflation then rising mortgage rates may temper or put a stop to the upward trajectory of house prices.

However, in conclusion, as we enter advent and the run-up to Christmas house prices are looking stronger than we were forecasting a few months ago.
Subscribe to Market Views