House prices rise again in May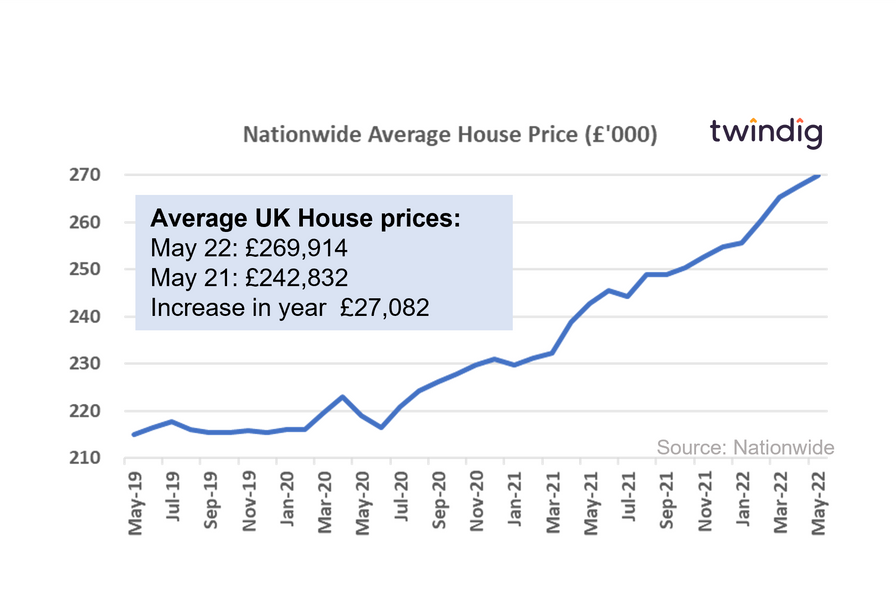 The Nationwide released their house price index for May 2022 this morning
What Nationwide said
Average UK house price £269,914
Annual house price inflation 11.2%
Survey reveals 54% considering enhancing their home
Twindig take
House prices continue to defy gravity. In the face of rising living costs and mortgage rates house prices continue to rise. Demand for housing is being supported by strong labour market conditions (unemployment is close to 50 year lows) and the number of homes for sale remains constrained. This imbalance of supply and demand is keeping house prices rising in the face of strengthening headwinds.
Nationwide expects the housing market to slow as the year progresses and they highlight certain measures of consumer confidence which have fallen towards record lows.
We appreciate the headwinds, but it is worth remembering that house prices are decided by a relatively small number of housing transactions. We estimate that there will be around 1 million housing transactions this year, which represents less than 4% of homes across the country. Costs of living and mortgage rates are rising, but house prices are decided by those able to move and currently, there are enough homebuyers not impacted by the cost of living rises to keep the housing market moving upwards.
We think it is more likely that housing transaction levels will fall before house prices do.
Subscribe to Market Views