House prices fall for seventh month in a row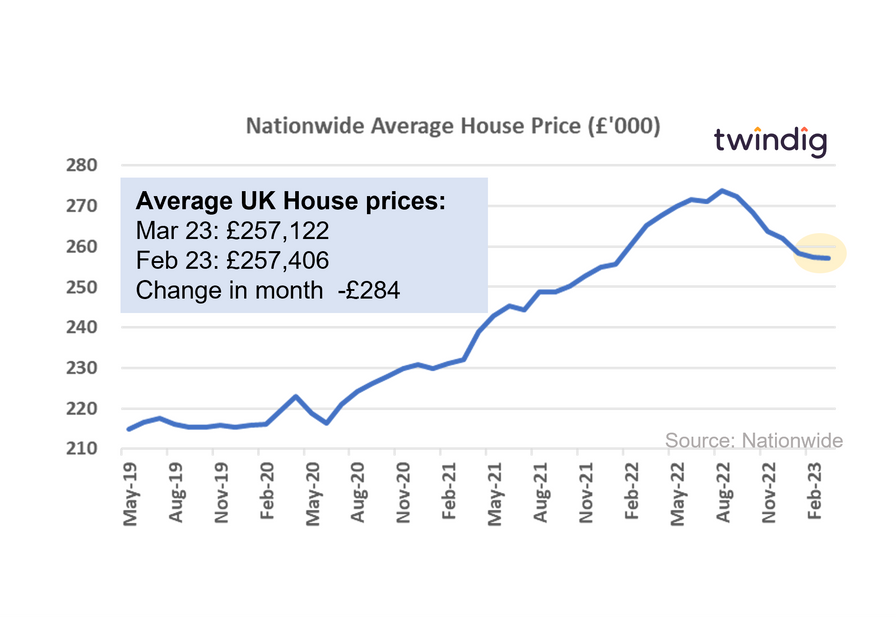 The Nationwide released its house price index for March today
What the Nationwide said
Average house price in March 2023 was £257,122
Average house prices have fallen by 6.1% or £16,629 since their August 2022 peak of £273,751
Annual fall in house prices of 3.1% the biggest annual decline since July 2009
Twindig take
According to the Nationwide House Price Index, average house prices have now fallen seven times in a row since their August 2022 peak of £273,751. The average UK house price is now £257,122 which is £16,629 or 6.1% lower than their August 2022 peak.
The Nationwide suggest that it will be hard for the UK housing market to regain much momentum whilst consumer confidence remains so weak and household budgets come under fire from inflation.
House price inflation has slowed in all regions across the UK, with nine of the Nationwide's 13 regions recording declines in the first three months of 2023. However, house prices rose in the West Midlands, Northern Ireland, the South West and the East Midlands.
Twindig estimates unchanged
We continue to believe that house prices will fall by around 10% this year and today's data from the Nationwide does not change our view.
Average house prices across the UK at £257,122 are still just over £41,000 higher than they were before the first COVID-19 Pandemic lockdown. Therefore the majority of homeowners have seen the value of their homes rise rather than fall since they purchased them even though according to the Nationwide house prices have fallen for seven months in a row.
Subscribe to Market Views