House prices rise for 12th month in a row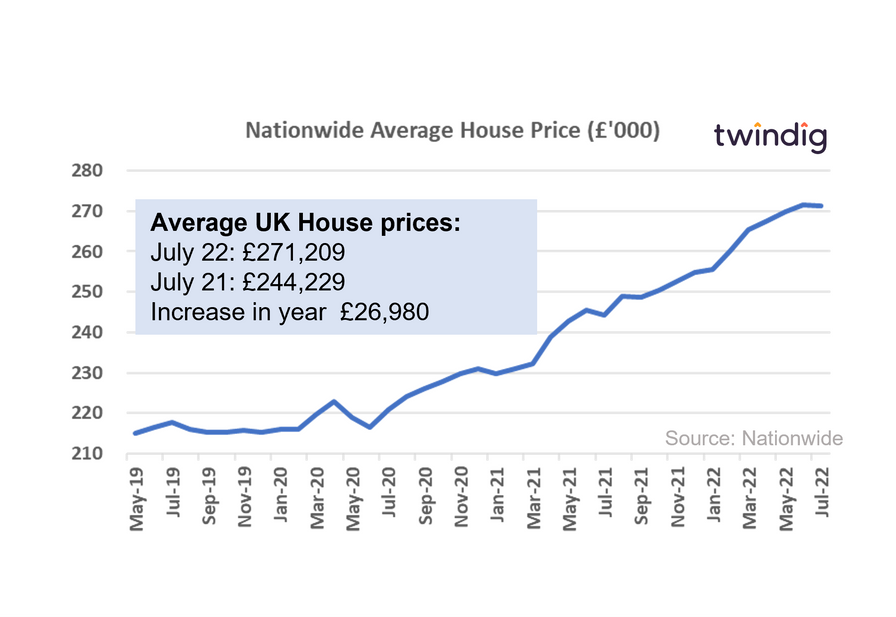 Nationwide released their house price index for July 2022 this morning
What Nationwide said
Average UK house price £271,209
Annual house price inflation +11.0%
Increase last month slowed to +0.1%



Twindig take
It seems that house prices have not read the memo on the cost of living crisis as the latest data from Nationwide reveals they have now risen for 12 months in a row and we have seen double-digit house price growth for 9 months in a row.
Housing transactions are starting to slow, but house prices are still on the up as the pandemic boosted savings, low unemployment and a limited number of homes for sale continue to drive house price growth.
Nationwide continues to expect house prices to cool as higher inflation and interest rates start to pinch even the largest household budgets and deposit requirements stretch first-time buyers too far.
However, with a summer punctuated by high-profile strikes and wage increases on the horizon, and relaxed mortgage stress tests kicking in this month we remain more upbeat on the outlook for house prices than Nationwide.
Less stress going forward?
As of 1 August 2022, lenders no longer need to apply a three percentage point stress test to mortgage applications to check if borrowers could still afford their mortgage if they had to pay their lender's SVR plus three percentage points. Nationwide's Standard Mortgage Rate (Nationwide's SVR) is currently 4.74% the stress test would have been calculated at 7.74%. To put that stress text in context, the monthly payments on a £100,000 25-year repayment mortgage at 4.74% would be £563.81 rising to £737.58 at 7.74%, an increase of 31% or £173.77 per month.
What does this mean for how much you could borrow?
Without the three percentage point stress test, homebuyers will, in theory, be able to borrow more. However, the loan to income (LTI) 'flow limit' remains in place, which means that no more than 15% of a lender's mortgages can be lent at a loan to income multiple higher than 4.5x. However, at the time of writing, we are not aware of any major lender who has formally announced a new lending policy, and with house prices at elevated levels, lenders may not rush to relax their lending rules.
Subscribe to Market Views