House prices rise by almost £500 per week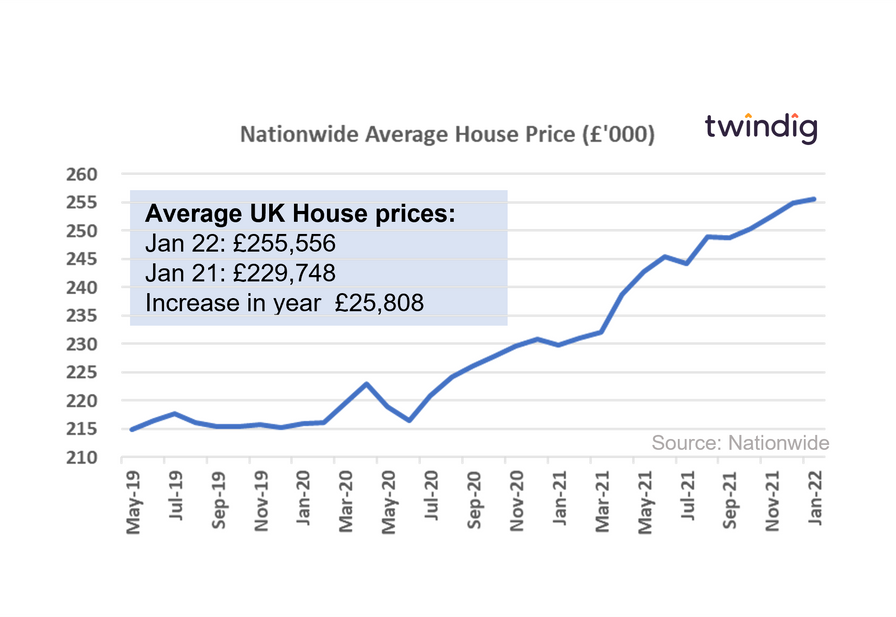 The Nationwide published their house price index for January 2022 this morning

What they said
Average UK house prices £255,556
House prices increased by 11.2% or £25,808 over the last year
The strongest start to the year since 2005
Twindig take
House prices have had a strong start to 2022, in fact, the strongest start to a year for 17 years. Over the last year UK house prices increased, on average by almost £500 per week, but the Nationwide suggests that there are headwinds on the horizon.

Nationwide believes that the housing market will slow this year for a number of factors:
House price growth has significantly outstripped earnings growth since the start of the pandemic.
The anticipated cost of living increases this year, which will stretch the already stretched housing affordability metrics
Mortgage rates are also likely to rise this year as we expect that the Bank of England raise Bank Rate this year as it tries to control inflation.

We understand their concerns and that these combined factors may take the wind out of the housing market's sails, however, the stock of homes for sale remains low which will underpin prices. In our view, housing transaction levels will take the sting out of any slowdown. Following a record year in 2021, we expect housing transaction levels to fall this year and end up closer to their longer-term trend levels than the record-breaking levels of last year. The supply of homes for sale is likely to remain tight this year which will help balance supply and demand and reduce the risk of significant house price falls.
Subscribe to Market Views