House price inflation weakest since November 2012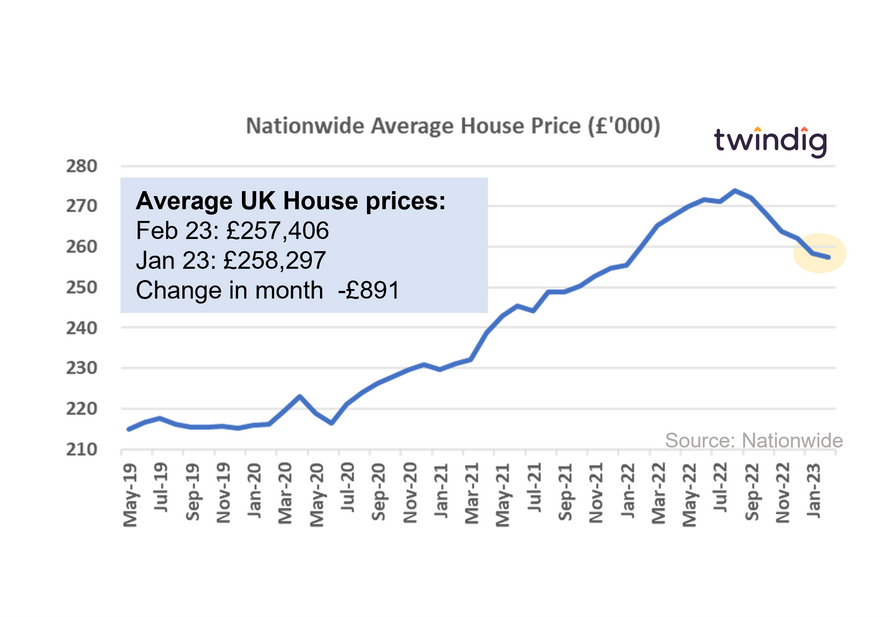 The Nationwide released its house price index for February today
What the Nationwide said
Average house price in February 2023 was £257,406
House prices £891 February 2023
Over the last year house prices fell by 1.1% the first annual decline since June 2020 and the weakest since November 2012
Twindig take
Annual house price inflation slipped into negative territory for the first time since June 2020 during February 2023. House prices peaked in August and have fallen every month since the Truss Kwarteng mini-budget in September last year.
The impact of the mini-budget on the housing market has been anything but 'mini', as rising mortgage rates compounded with the cost of living crisis taking the wind out of the housing market's sails as significant numbers of homebuyers chose to sit on their hands rather moving home.
The Nationwide sounds particularly downbeat about the coming months:
"It will be hard for the market to regain much momentum in the near term since economic headwinds look set to remain relatively strong, with the labour market widely expected to weaken as the economy shrinks in the quarters ahead, while mortgage rates remain well above the lows prevailing in 2021
"Indeed, despite the modest fall in house prices, for a prospective first-time buyer earning the average income looking to buy the typical home, mortgage payments remain well above the long-run average as a share of take-home pay.
In addition, deposit requirements remain prohibitively high for many and saving for a deposit remains a struggle given the rising cost of living, especially for those in the private rented sector, where rents have been rising strongly."
But it isn't all doom and gloom
Persimmon, one of the UK's largest housebuilders reported this morning that its sales rates in the first 8 weeks of 2023, at 0.52, were higher than they were during the last three months of 2022 (0.30) a 73% improvement. Persimmon also said that cancellation rates had reverted back to more normal levels after the initial impact of the mini-budget.
It seems to us that the housing market has found a new, lower, equilibrium level of activity following a financial shock, which itself followed a period of unusually elevated housing market activity. Interestingly Persimmon says that 'pricing remains firm'.
Housebuilders have to sell houses, they cannot sit on their hands like the homeowning public are able to, and they no longer have the help of help to buy. Therefore, for them to be able to say that pricing is firm suggests that the housing market is unlikely to crash
Subscribe to Market Views