House prices fall for fourth month in a row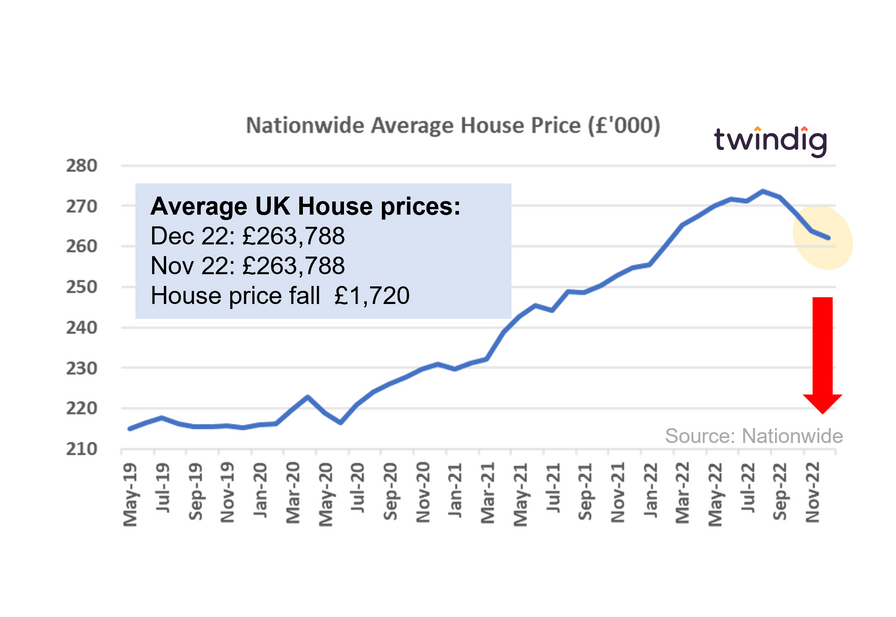 The Nationwide released its house price index for December today
What the Nationwide said
Average house price in December 2022 was £262,068
House prices fell by 1.4% or £1,720 in November the biggest fall since June 2020
Annual house price inflation fell to 2.8% down from 4.4% in November 2022
Twindig Take
According to the Nationwide House Price Index, average UK house prices fell for the fourth month in a row in December to £262,068, their worst run since 2008.
UK House prices have fallen by £11,683 or 4.3% since their peak in August 2022.
House price growth slowed across all regions of the UK in the three months to 31 December 2022.
The prices of detached houses continue to outperform those of flats. The Nationwide reported that between Q1 2020 and Q4 2022 the average price of a detached property increased by 26% (c.£78,000), whereas over the same period, flats only increased by 13.4% (c.£23,000).
Looking ahead to 2023, we believe that the UK housing market is facing significant headwinds as mortgage rates rise and living costs continue to increase. House prices are therefore likely to continue to fall during 2023, although we do not expect to see a house price crash.
Subscribe to Market Views