House prices rise in April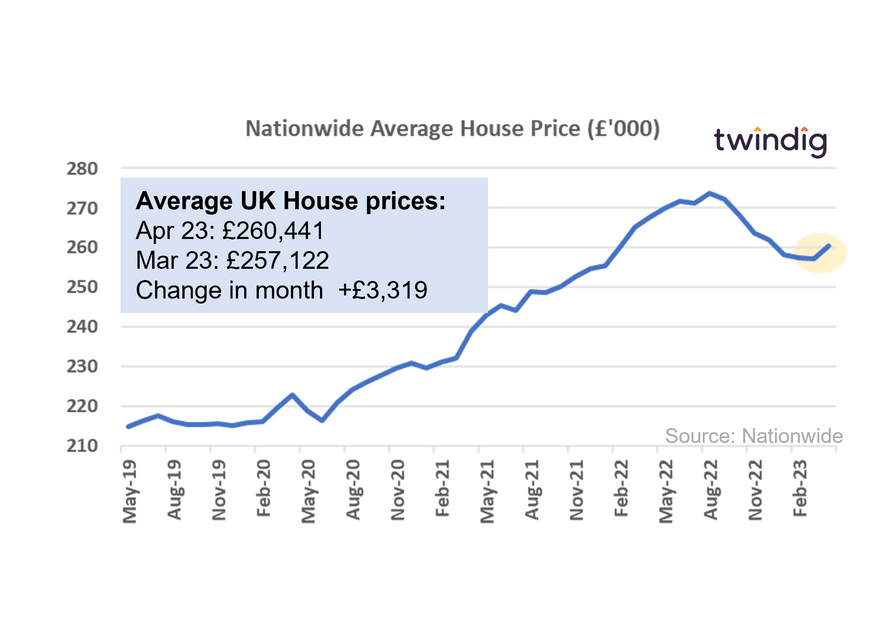 The Nationwide released its house price index for April today

What the Nationwide said
Average house prices in April 2023 were £260,441
Average house prices increased by 0.5% in April 2023, the first rise after seven consecutive falls
Average house prices have fallen by 4.8% or £13,310 since their August 2022 peak of £273,751
Twindig take
We had expected the Nationwide House Price Index to report a further fall in house prices in April, as the cost of living increases continued to bite. The small increase in house prices in April suggests that the housing market is more robust than we had thought.
House prices have fallen over the last year, by 2.7% or £7,719, but this is not the house price crash that some have been predicting, and it seems that the direction of house prices in the UK is no longer a one-way bet.
The Nationwide points to positive signs in the housing market: a pick-up in mortgage application activity, improving consumer confidence and mortgage rates well below their post-mini-budget peak.
If the Bank of England's inflation forecasts are correct, we will see inflation fall in the second half of this year, and a taming of the cost of living crisis. Add to this falling interest rates and rising wages and the performance of the UK housing market may exceed our current expectations.
Subscribe to Market Views