Mortgage rates moving on up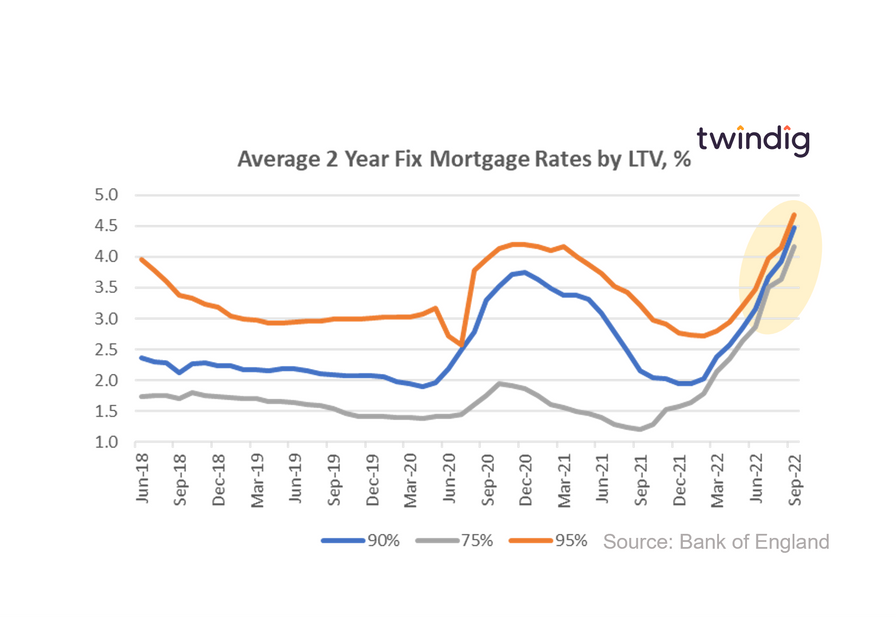 The Bank of England released average mortgage rates by Loan to Value (LTV) today

What they said
Average mortgage rate for 75% LTV 2-year fixed rates mortgages 4.17%
Average mortgage rate for 90% LTV 2-year fixed rates mortgages 4.47%
Average mortgage rate for 95% LTV 2-year fixed rates mortgages 4.68%
Twindig take
Whilst house prices are dithering, not sure whether to go up or down, the same cannot be said for mortgage rates. To quote the often, and recently quoted song by M People they are 'moving on up' and 'nothing can stop' them.
In September 95% LTV mortgage rates increased by 13% to 4.68%, whilst 90% LTV and 75% LTV mortgage rates increased by 14% and 15% respectively. We had to increase the scale on our chart to accommodate the recent rises.
If we look at the rises over the last year, 75% LTV mortgage rates have increased by 250%, 90% LTV mortgages by more than100% and 95% LTV mortgage rates have increased by 45%. The long days of cheap credit are long gone.
More rate rises to come
Following the mini-budget, which aimed to stimulate the economic demand that the Bank of England is trying to curb, we can expect more Bank Rate rises to come. The next change in Bank Rate is expected on Thursday 3rd November when we could see another big leap in Bank Rate. Bank Rate is currently 2.25% and at the time of writing (7 October 22), we would not be surprised if the MPC increased Bank Rate by 75 basis points (bp) to 3.00%. This 75bp rise would almost certainly find its way into mortgage rates.
To see how much your mortgage payments might change you can use our mortgage calculator
How to lower your mortgage payments
Understandably, increasing numbers of homeowners are worried about how they will be able to afford their mortgages as interest rates rise. To find out how to lower your mortgage payments you can read our article below:
Subscribe to Market Views