Mortgage rates fall in March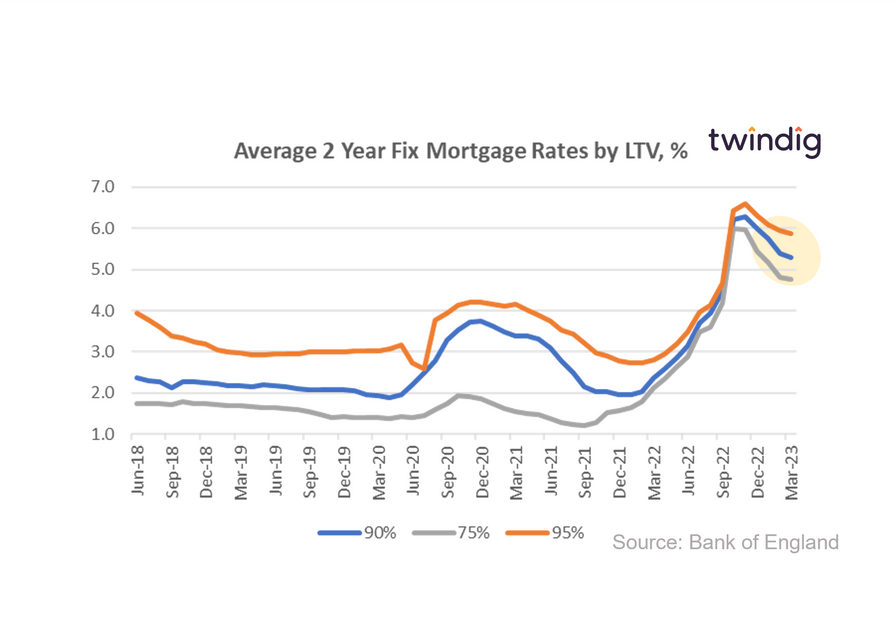 The Bank of England released average mortgage rates by Loan to Value (LTV) today
What the Bank of England said
Average mortgage rate for 75% LTV 2-year fixed rates mortgages 4.76% (down 6bp)
Average mortgage rate for 90% LTV 2-year fixed rates mortgages 5.30% (down 8bp)
Average mortgage rate for 95% LTV 2-year fixed rates mortgages 5.87% (down 8bp)
Twindig take
Mortgage rates continue to fall as the financial markets become more stable and mortgage lenders apply lower risk premiums to their mortgage lending. This will be welcome news to those homeowners looking to remortgage and to those looking to move or buy a home.
Average mortgage rates for the popular mortgage products have fallen in each month so far this year.
Lower month on month
The average mortgage rate for 2-year fixed-rate mortgages for 75%, 90% and 95% mortgages fell by 1.2%, 1.5% and 1.3% respectively in March 2023
Higher year on year
However, mortgage rates remain significantly higher than they were one year ago. One year ago the average rate for a 75% LTV 2-year fixed rate mortgage was 2.14% today it is 4.76%, more than twice as high. Turning to 90% and 95% LTV two-year fixed rate mortgages, one year ago the average rates were 2.38% and 2.80% respectively, whereas in March 2023 there were 5.30% and 5.87%.
How much will my mortgage cost?
You can see the impact of changing mortgage rates on your mortgage payments by using our mortgage calculator below
Will mortgage rates continue to fall?
The International Monetary Fund (IMF) reported earlier this week that it expects interest rates in major economies to fall in the future due to low productivity and ageing populations.
Twindig take
The Bank of England is hoping to reduce inflation by raising interest rates. The Bank of England expects the underlying inflation rate to fall dramatically in the second half of this year. Once inflation is under control we see no reason why the Bank of England would not start to reduce Bank Rate (interest rates).
The IMF's comments relate to additional factors. Ageing and productivity. We tend to borrow less money as we get older, partly because our spending patterns change and partly because we tend to have more wealth and therefore do not need to borrow as much. Banks may therefore reduce the cost of borrowing to encourage us to borrow more.
The productivity puzzle. Lower interest rates encourage businesses to grow if the cost of borrowing is lower they will borrow more to grow their businesses and if they grow and invest they produce more things and therefore become more productive. The IMF is suggesting that after a period of low growth in Western economies, once inflation is under control central banks may lower interest rates to stimulate growth.
Subscribe to Market Views