Mortgage rates start to fall
The Bank of England released average mortgage rates by Loan to Value (LTV) today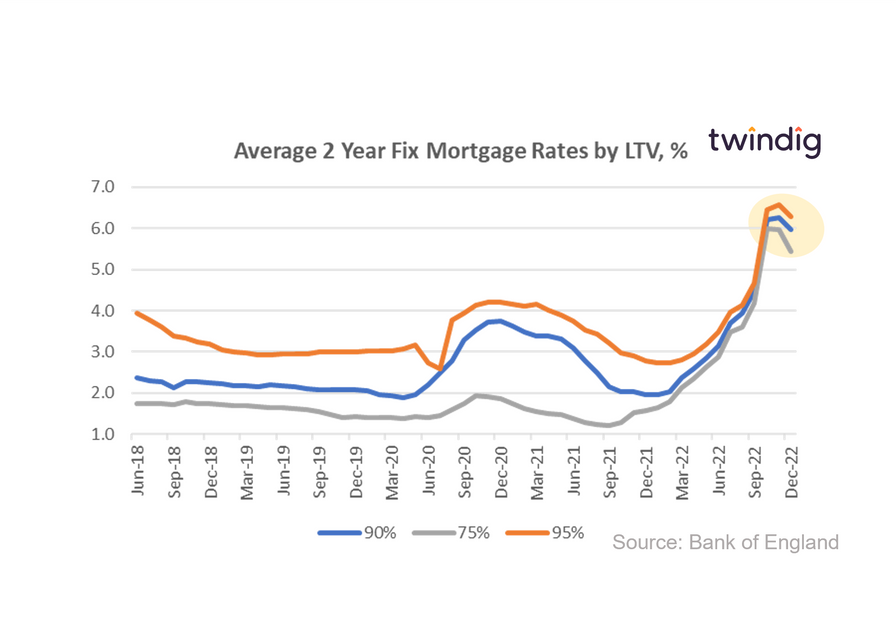 What the Bank of England said
Average mortgage rate for 75% LTV 2-year fixed rates mortgages 5.43% (down 54bp)
Average mortgage rate for 90% LTV 2-year fixed rates mortgages 5.96% (down 29bp)
Average mortgage rate for 95% LTV 2-year fixed rates mortgages 6.29% (down 28bp)
Twindig take
Average mortgage rates fell in December 2022 as financial markets continued stabilising following the Autumn Statement in November. This is the first tangible sign that some of the damage caused to the housing market by the September mini-budget is being reversed.
At a time of rising living costs the reduction in mortgage rates will be welcomed by homebuyers across the country, and if we combine the impact of lower mortgage rates with falling house prices the good news gets even better.
The reduction in average mortgage rates is likely to have been driven by the recent falls in the Swap Rates. We show the chart for 2-year swap rates below, which rose significantly during the time when Liz Truss and Kwasi Kwarteng were residing in Downing Street.
Stability has since returned although swap rates are at a higher level than were before last Summer. This in part reflects the expectations of the financial markets for the future Bank of England's interest rate decisions.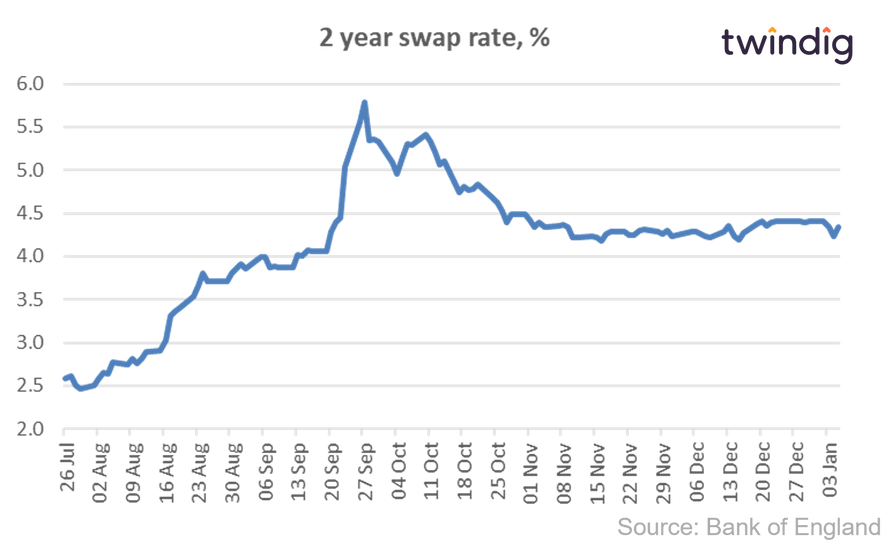 The Bank of England is currently using interest rates to seek to lower inflation and it is likely that the Bank of England will raise interest rates again before they deem inflation to be under control. That said the spread (difference) between underlying interest rates and mortgage rates could narrow (reduce) and therefore mortgage rates in the future may be lower than we had previously expected them to be.
Subscribe to Market Views