Mortgage approvals dip in September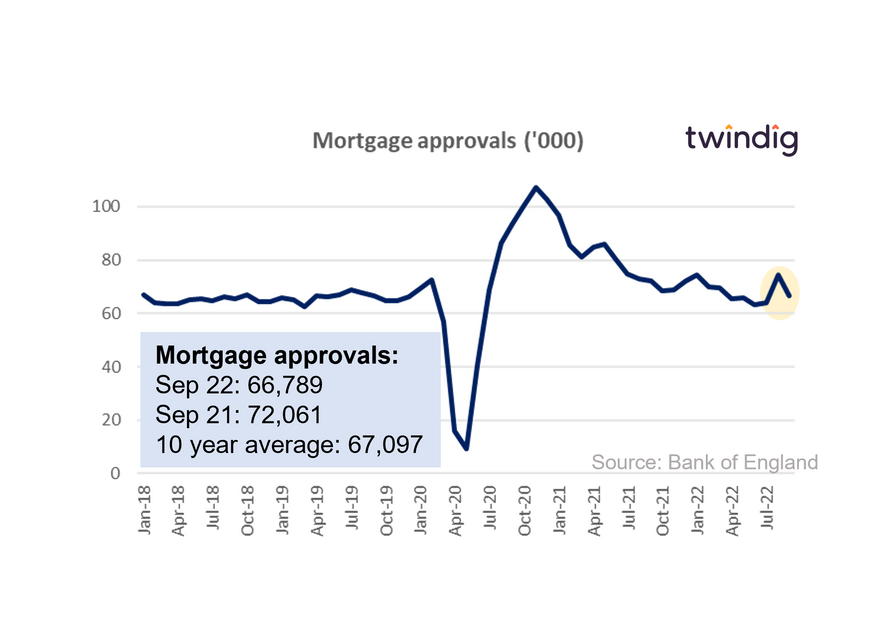 The Bank of England released mortgage approval data for September this morning

What the Bank of England said
Mortgage approvals for September 2022 were 66,789
This was 10.3% lower than the 74,422 mortgages approved in August 2022
This was 7.3% lower than the 72,061 mortgages approved during September 2021
Twindig take
After a surprise leap in August, mortgage approvals fell back to a more normal level in September. Whilst the 10% drop month on month and 7% drop year on year will grab the headlines, the key is that, in September, mortgage approvals were broadly in-line (just 308 short) with their ten-year average of 67,097.
We must also remember that in September we also gained a new Prime Minister, lost Queen Elizabeth, had a period of mourning, gained a new King, and had a 'mini-budget'. Against such a backdrop, the stability of the mortgage market is quite remarkable, especially in a period of rising mortgage rates.
Mortgage rates also rose significantly during September and the MPC is widely expected to raise Bank Rate again when it meets this week, we will find out by how much on Thursday. However, since the Government has backtracked on most of the contents of Kwasi Kwarteng's mini-budget the rise in Bank Rate may not be as high as some feared.
To see how changes to mortgage rates impact your mortgage payments, you can use our mortgage payments calculator below:

Subscribe to Market Views