Mortgage approvals fall by 10% in October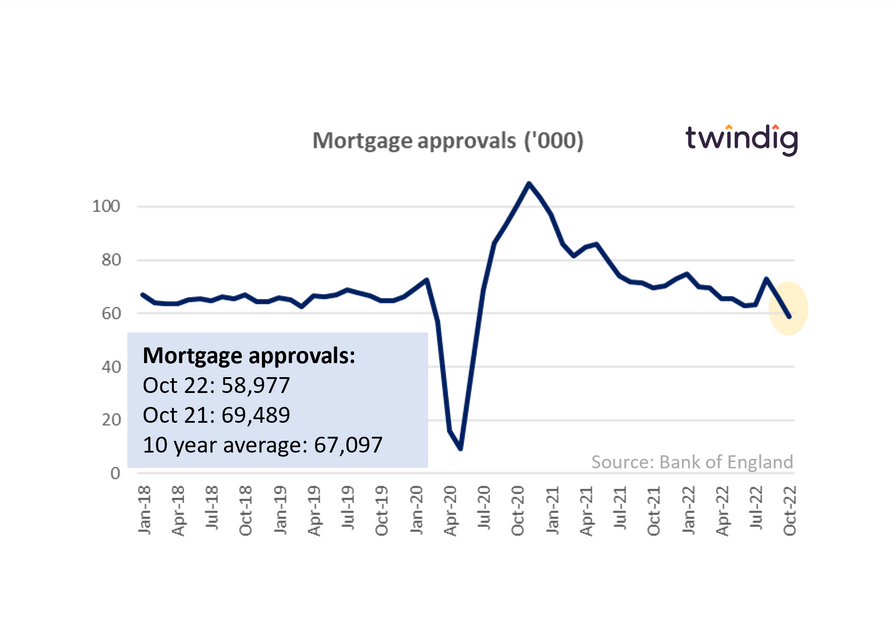 The Bank of England released mortgage approval data for October this morning

What the Bank of England said
Mortgage approvals for October 2022 were 58,977
This was 10.6% lower than the 65,967 mortgages approved in September 2022
This was 15.1% lower than the 69,489 mortgages approved during October 2021
Twindig take
Mortgage approvals plummeted in October as the mini-budget wreaked havoc on the housing market, taking mortgage approvals to their lowest level since June 2020. This is clearly not a good sign as mortgage approvals are, in our view, the best housing market lead indicator. Mortgage approvals today lead to housing transactions in the future.
We hope that the provisions in November's Autumn Statement which stabilised the financial markets will also have steadied the broader mortgage and housing markets.
Whilst mortgage approvals fell in October, mortgage rates continued to rise, putting further squeezes on household finances and making it more difficult for all who are buying with a mortgage to move home.
In times of market stress, something has to give and it will either be house prices or housing transactions. At the moment it seems that housing transactions will take the majority of the housing market's pain.
To see how changes to mortgage rates impact your mortgage payments, you can use our mortgage payments calculator below:
Subscribe to Market Views