Mortgage approvals jump 18% in March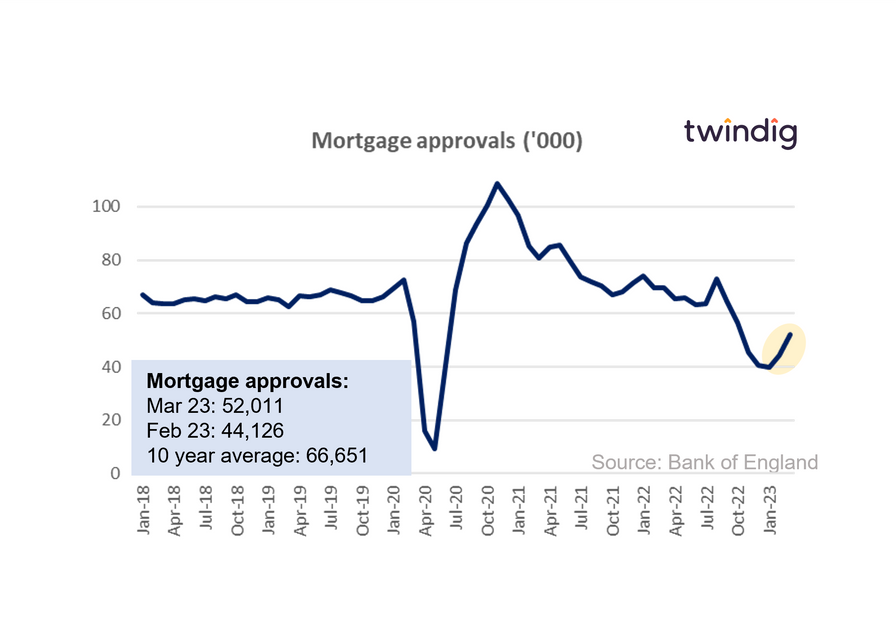 The Bank of England released mortgage approval data for March this morning
What the Bank of England said
Mortgage approvals for March 2023 were 52,011
This was 17.9% higher than the 44,126 mortgages approved in February 2023
This was 25.5% lower than the 69,777 mortgages approved in March 2022
Twindig take
Mortgage approvals had a spring in their step in March, jumping by almost 18% to 52,011. It seems that the housing market is putting the disruption of the September mini-budget firmly behind it and that despite concerns about mortgage rates and the costs of living, Britain is moving again.
The rise in mortgage approvals suggests that both lenders and homebuyers are feeling more confident about the state of the UK housing market. Rising mortgage approvals will lead to a greater number of housing transactions not behaviour we would expect if a house price crash was thought to be just around the corner.
For all the talk of house price crashes a growing number of homebuyers and home movers appear to be disagreeing with that particular hypothesis.
There continues to be an imbalance between the number of homes for sale and the number of homes people want to buy, and whilst demand outweighs supply house prices are unlikely to crash.
The UK housing market may not be perfect, but it is functioning and it seems that for now there is no place like home.
Subscribe to Market Views