Mortgage approvals rise in January 2022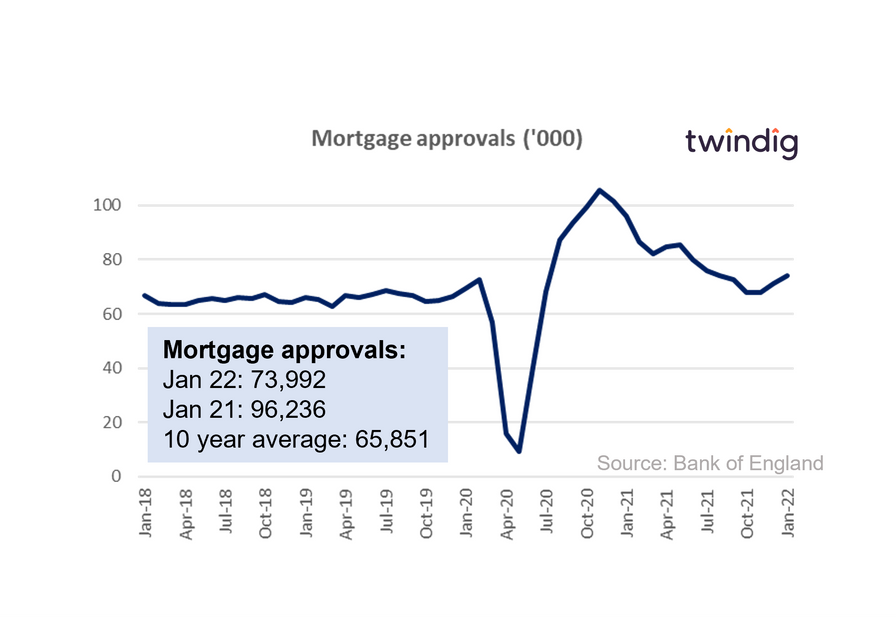 The Bank of England released the mortgage approval data for January 2022 this morning.
What they said
Mortgage approvals in January 2022 were 73,992
This was 3.9% higher than December's figure of 71,219
Mortgage approvals in January 2022 were 23.1% below the 96,236 recorded in January 2021, but is still 12% higher than the 10-year average.
Twindig take
Mortgage approvals started the year on a positive note, up 3.9% on December 2021. Mortgage approvals have risen every month since October 2021. Increasingly, it is looking likely that the feared post stamp duty holiday housing market lull will not materialise. It seems that as COVID restrictions are scaled back the housing market is moving forward.
It is early days but the anticipated increases in the cost of living do not appear to be dampening the spirits of homebuyers, although we appreciate that those in the fortunate position to be able to buy a home probably have sufficient financial resources to accommodate rising prices of food, fuel and energy.
Overall, mortgage rates, for now, are holding steady despite the rise in underlying Bank Rate. This will be welcome news as other costs rise, but empirically there is little, if any, the correlation between mortgage rates and mortgage approvals. It seems if you are minded to buy, you buy.
Mortgage approvals are the key housing market lead indicator, and the visibility they provide is good news when there is so much uncertainty and unrest elsewhere.
Subscribe to Market Views