Housing transactions September Stamp Duty Peak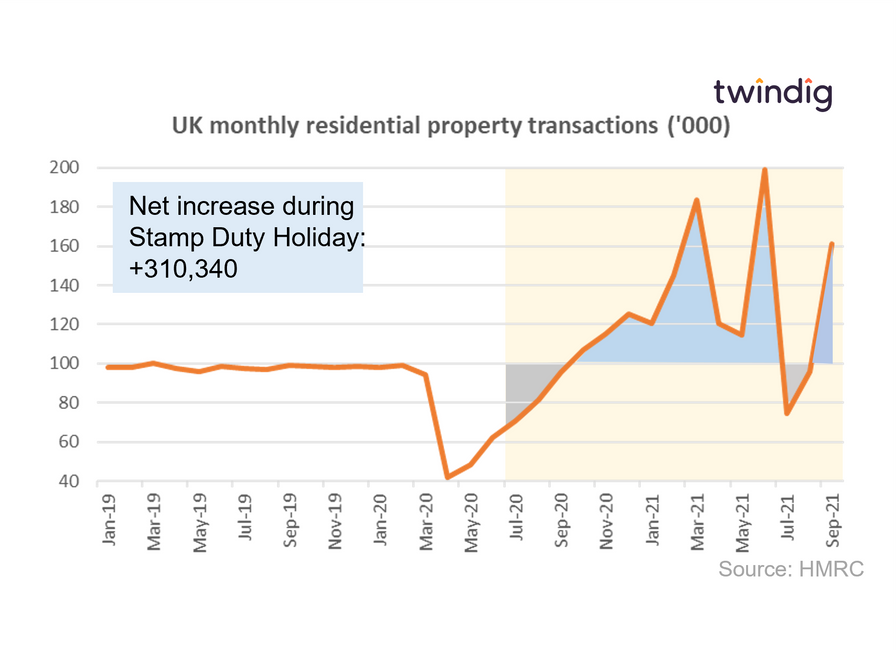 HMRC released provisional housing market transaction data for September 2021 this morning
What they said
Housing transactions in September 2021 were 160,950
This was 68% ahead of August 2021
And also 68% ahead of September 2020
Twindig take
Not surprisingly housing transactions spiked in September as the final stage of the Stamp Duty Holiday drew to a close. Provisional data from HMRC suggests there were 160,950 housing transactions in September 2021 which is 68% higher than both August 2021 and September last year. We estimate that there were more than 310,000 additional housing transactions completed during the Stamp Duty Holiday.


Interestingly the third spike was the lowest (the others being March 2021 (the original holiday end date) and June 2021 (the end of the £500,000 Stamp Duty Threshold). In our view the spike was lower than the previous two for three reasons:
The amount of the tax benefit had been reduced
House price increases since the start of the stamp duty holiday had more than outweighed the benefit of the tax saved


The rush to beat the deadline was less intense because the end date of the stamp duty holiday had been very clearly communicated.


What next now the holiday is over?


We expect to see a lull in transactions in October and November before a 'get moved in before Christmas' increase in December. Looking ahead to 2022 we believe January will be a quieter month before the start of what will, hopefully, be a more normal spring selling season.
Subscribe to Market Views