Housing transactions nudge up in May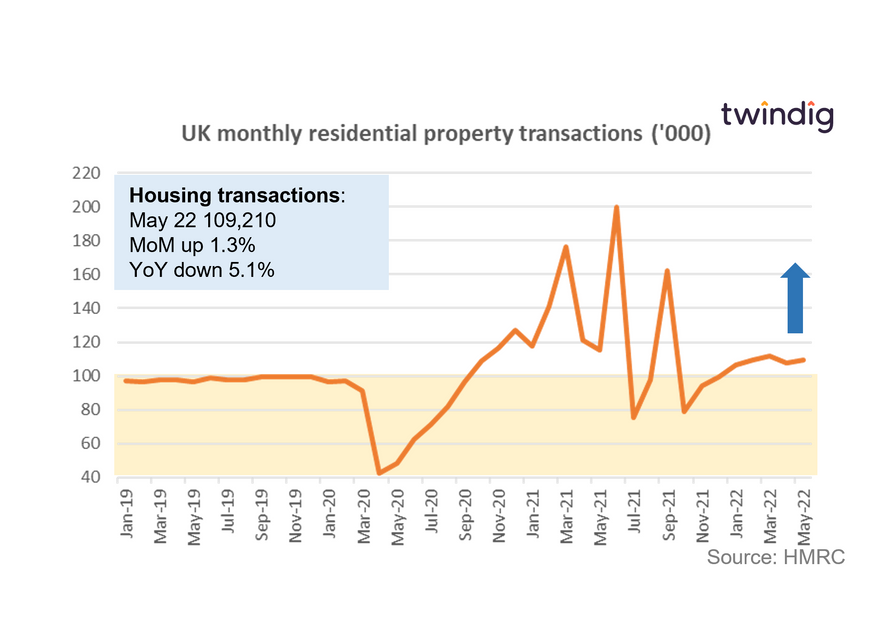 HMRC released provisional housing transaction data for May 2022 this morning
What they said
Housing transactions in May 2022 were 109,210
This is 1.3% higher than in April 2022
This is 5.1% lower than in May 2021
Twindig take
Given the rising tide of mortgage rates and the increases in the costs of living, we were pleasantly surprised that housing transactions increased in May. At 109,210 housing transactions in May 2022 were 11% above their long-run average of 98,048. The housing market party is not over yet.

The housing transactions reported in May will have been started several months earlier, but the fact that so many were completed is positive news for the housing market, demonstrating that it is built on strong foundations.

Yesterday, the Bank of England announced that it would be taking away its mortgage rate affordability stress test from 1 August 2022. This raised eyebrows in some quarters (why take away the test just as mortgage rates are starting to increase?) the Mortgage Conduct of Business (MCOB) rules on affordability still apply and so, although the regulations are being relaxed, the baby is not being thrown out with the bath water.

As mortgage rates rise house prices will start to be tempered if you are wondering how the changes to interest rates will impact your mortgage repayments you can use our mortgage calculator below.
Subscribe to Market Views