Housing transactions ticked up in March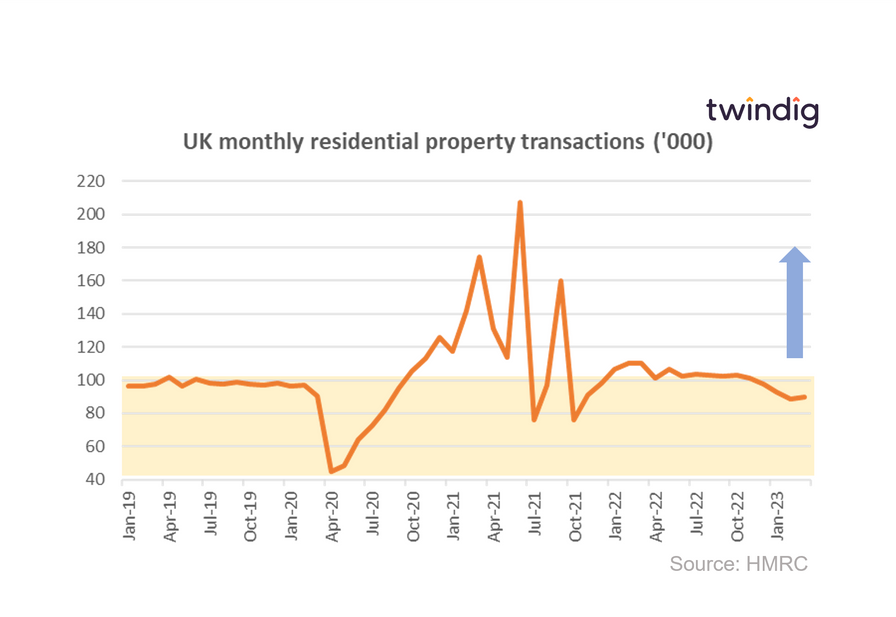 HMRC released provisional housing transaction data for March 2023 today
What they said
Housing transactions in March 2023 were 89,560
This is 1.3% higher than in February 2023
This is 18.9% lower than the 110,370 in March 2022
Twindig take
We had expected a further fall in housing transactions in March, so the slight increase was a welcome surprise. Hopefully, this suggests that the hiatus caused by last year's mini-budget is now behind us and the housing market is back to normal, or rather free from the impact of Government interference.
The March data ties in with the commentary from the UK housebuilders (Persimmon and Taylor Wimpey) this week both of whom said that the housing market had been improving so far this year with respect to sales rates, a reduction in cancellation rates and firm house prices.
We continue to expect housing transactions to fall by around 20% this year as the increases in the costs of living continue to impact household spending patterns. However, if the rate of inflation starts to fall as the Bank of England is currently projecting then we could see a pick up in the level of housing activity in the autumn.
Housing transactions of 89,560 are 8.6% below the long-run average of 98,015
Subscribe to Market Views