Housing transactions resilient in January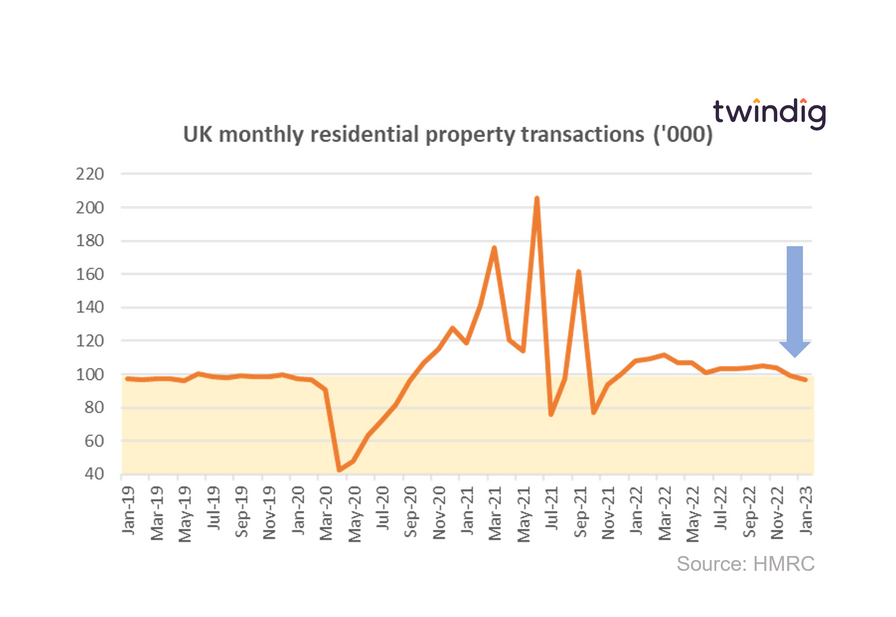 HMRC released provisional housing transaction data for January 2023 today
What they said
Housing transactions in January 2023 were 95,650
This is 2.6% lower than in December 2022
This is 10.6% lower than in January 2022
Twindig take
In our view, housing transactions were surprisingly robust in January 2023. The current run rate of 96,650 implies an annual total of 1.16 million which is only 8% lower than the total for 2022, a far cry from our prediction that housing transactions will fall by 20% this year.
However, it is very early days and we are not going to change our forecast for the year on the basis of one month's figures (which themselves are subject to revisions).
The bears will argue that we have yet to see the full impact of the September mini-budget in the figures and they have a point. Housing transactions are taking longer to complete, and mortgages are harder to secure, therefore the drop in activity may not be seen in the data until the February and March data is released.
There remain challenges ahead for the housing market, but it has not ground to a halt, and in the main, those that need to move are able to do so. We continue to believe that there will be a softening of housing transactions in the coming months and this will soften the blow on house prices. We do expect house prices to fall by around 8%, but certainly not by as much as some are predicting.
The housing market has been more resilient than we anticipated during previous cycles and we cannot see the scale of the doom and gloom ahead that some others can.
Subscribe to Market Views