Housing transactions - January 2022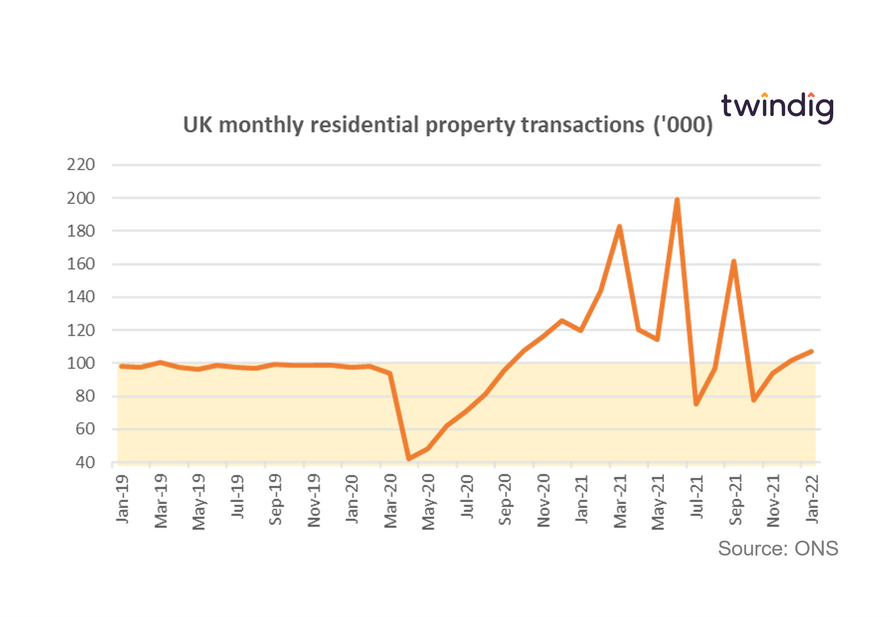 HMRC released provisional housing transaction data for January 2022 this morning
What they said
Seasonally adjusted UK housing transactions in January 2022 were 106,990
This is 10.6% lower than January 2021 and
5.1% higher than December 2021
Twindig take
2022 got off to a good start in 2022 with seasonally adjusted housing transactions 5.1% higher than they were in December 2021. We have been impressed by just how quickly transaction levels have bounced back following the end of the Stamp Duty Holiday. We had expected a bigger, deeper, longer lull and we are happy to have got this prediction wrong.
At 106,990 housing transactions are 9.3% above their long-run average of 97,859. With Covid restrictions being lifted we expect this positive momentum to continue.
We note the recent reports that homebuyers and estate agents are suggesting that there is a shortage of homes for sale, but we view this as a mismatch of supply of demand. With housing transactions up 5.1%, an increase of more than 5,000 home sales, it is difficult for us to suggest that there is a 'seller's strike' as some are suggesting. More likely that with many seeing the light at the end of the COVID-19 tunnel and Spring just around the corner we are still seeing a catch up in housing market activity after a few subdued years, where transactions were hampered by COVID and Brexit uncertainty.
The key takeaway is that so far in 2022 the housing market is very definitely open for business.
Subscribe to Market Views