Housing transactions softening as expected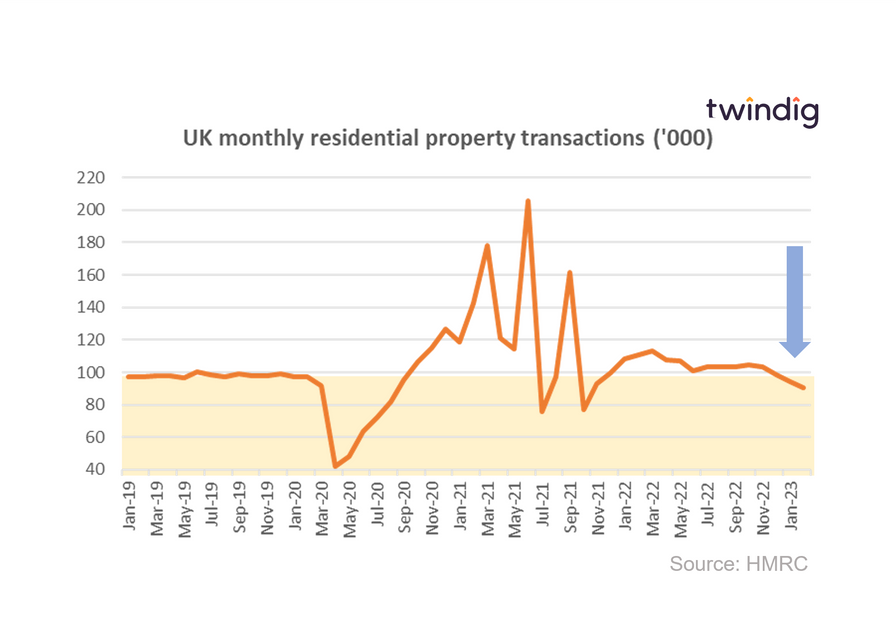 HMRC released provisional housing transaction data for February 2023 today
What they said
Housing transactions in February 2023 were 90,340
This is 4.1% lower than in January 2023
This is 18.2% lower than the 110,500 in February 2022
Twindig take
Housing transactions have now fallen for four months in a row, falling by around 4-5% in each of the last three months. In our view, this downward trend reflects the ongoing impact of last September's mini-budget, but perhaps more importantly the double whammy of mortgage rates and living costs rising simultaneously.
Housing transactions have not fallen off a cliff, but we expect the downward trajectory to continue over the next few months. We continue to believe that the number of housing transactions will fall by 20% this year. We see no reason to change our forecast following the publication of today's housing transaction data. The current housing transaction run rate implies an annual total of 1.08 million housing transactions which is 15% below the 2022 total of 1.26 million.
We appreciate that a fall of 20% sounds very significant, but we need to contextualise the fall. The graph below shows the annual level of housing transactions since 2007. The volume of housing transactions in 2021 and 2022 was unusually high. In the context of history, our forecast of around one million housing transactions in 2023 is hardly a crash. More a case of the housing market catching its breath after a very hectic couple of years.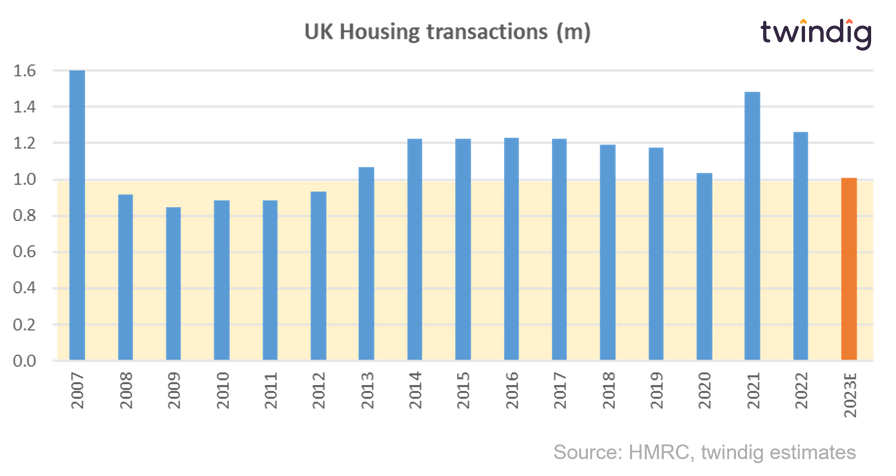 Looking forward as inflation falls and wage rises start to come through, we expect the mood of the housing market to improve from the autumn onwards. We do not believe that the recent challenges in the banking sector (Silicon Valley Bank and Credit Suisse) will have any lasting impact on the UK mortgage lenders and we certainly do not think those problems signal the start of another global financial crisis. As Lance Corporal Jones might say 'Don't panic'
Subscribe to Market Views