Housing transactions fall in April 2022, but not a lot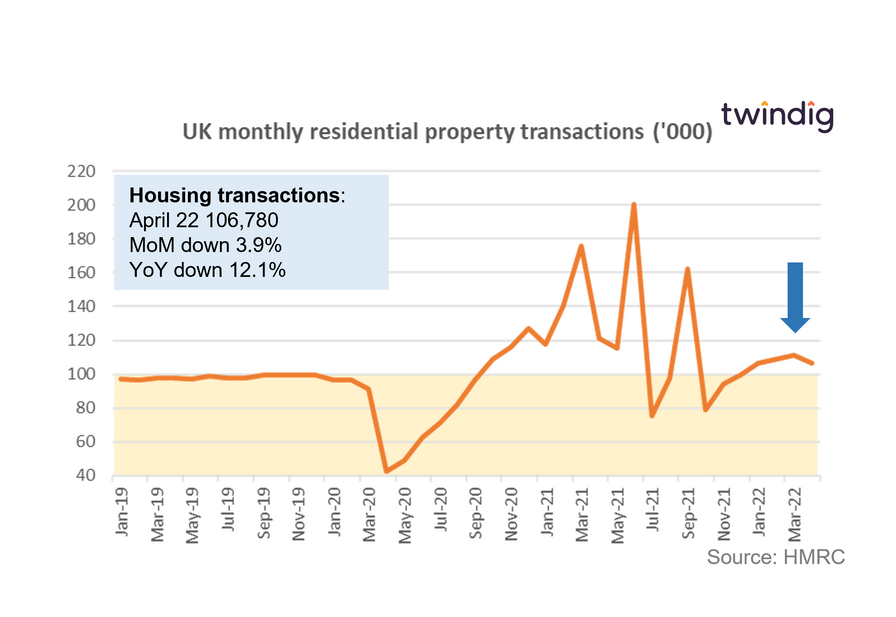 HMRC released provisional housing transaction data for April 2022 this morning
What they said
Housing transactions in April were 106,780
This is 3.9% or 4,370 lower than in March 2022
This is 12.1% or 14,630 lower than in April 2021


Twindig take
Housing transactions fell for the first time in six months in April 2022, the first fall since October 2021, which followed the end of the Stamp Duty Holiday in September 2021.
However, at 106,780 housing transactions remain 9% (around 9,000) ahead of their long-run monthly average. The temperature of the housing market may have cooled a degree or two, but it is certainly not running out of steam.
Impact of the cost of living crisis?
In our view, it is too early to tell if the cost of living crisis is impacting the level of housing transactions. The housing transactions which completed in April 2022 will have been 'sale agreed' or sold subject to contract much earlier in the year and possibly towards the tail end of 2021. A three to four-month lag between sale agreed and completion would actually be pretty good in the current climate
We expect that the cost of living crisis will temper housing market activity, but we won't know by how much for several months to come and we won't be able to calculate its full impact until the crisis itself has subsided.
Will house prices follow housing transactions?
It is natural to ask if falling housing transactions will lead to lower house prices, at first glance, it seems they should, but we have to dig into the detail of the interaction between housing supply and housing demand. Over the last two years, estate agents have been reporting a shortage of homes to sell, this lack of supply has underpinned house prices as there have been more buyers than sellers. A fall in the number of housing transactions could therefore be down to not enough supply rather than not enough buyers.
In our view, April's dip is probably a combination of both a supply shortage but also a slight easing in demand. Only time will tell how much the cost of living crisis will impact housing demand, on the one hand, it may fall as household budgets are squeezed, on the other, it may rise as the race for space becomes a race for savings as households look for smaller or more energy-efficient homes.
Subscribe to Market Views