UK Housing Market: Just Do It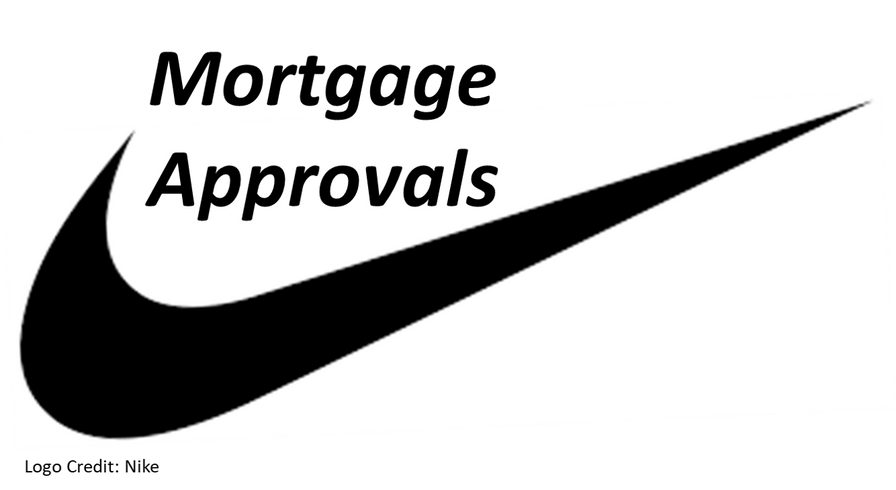 Mortgage approvals almost hit 100,000 in October 2020, some 51% ahead of October 2019, it appears that the Stamp Duty Holiday is moving the housing market recovery from a 'V-shape' to a 'Nike Swoosh'. House prices continue to rise, Berkeley group de-cycles the notoriously cyclical housing market and the Twindig Housing Market Index hits its highest level since February. It seems the housing market has replaced the mantra of 'hands face space' with 'Just Do It'.
Bank of England Mortgage Approvals
The Bank of England published data on UK mortgage approvals for October 2020 this week
What they said
97,532 mortgages were approved in October 2020

This was 5.9% higher than in September

This was 51% higher than in October 2019
Twindig take
Mortgage approvals increased by 5.9% to 97,532 in October 2020. Growth is slowing (they increased by 7.5% in September), but mortgage approvals were 51% ahead of the same period last year as the Stamp Duty Holiday boosts housing market activity.
If we look to the graph below, the v-shaped housing market recovery is starting to look like a Nike Swoosh, which begs the question, with this much momentum do we need the Stamp Duty Holiday? Or will this recovery come to an abrupt halt without it?
It is worth remembering that a mortgage is typically approved three months before a housing transaction. There are currently significant bottlenecks with conveyancing services this means that housing transactions are taking longer to complete and there are risks that many will not be able to complete before the end of the Stamp Duty Holiday.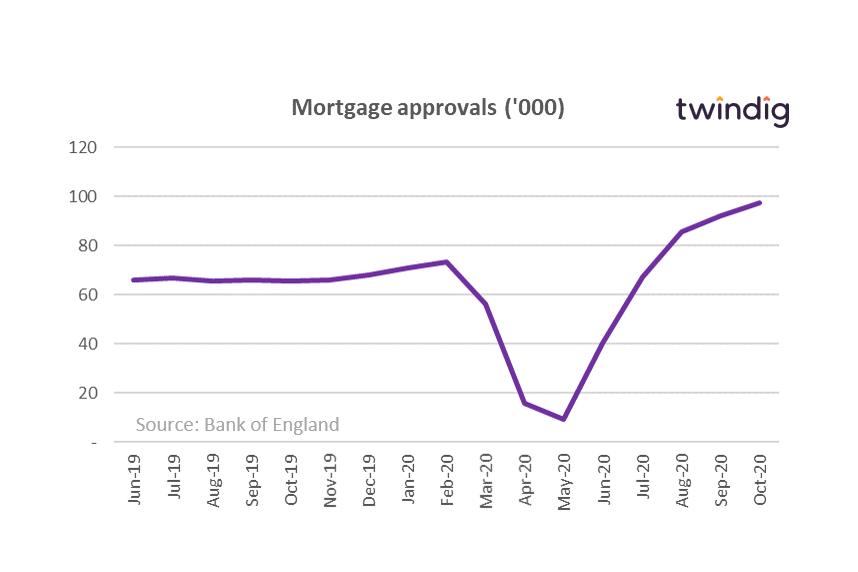 Bank of England mortgage rate statistics
The Bank of England published data on average mortgage rates for October 2020 this week
What they said
Average mortgage rates for new mortgages was 1.8% in October

3.55% for a 90% LTV 2 year fixed rate mortgage

4.09% for a 95% LTV 2 year fixed rate mortgage
Twindig Take
Mortgage rates have been slowly increasing throughout 2020. The average rate for a new 95% two-year fixed-rate mortgage was 4.09% in October 2020 an increase of 35% since the start of 2020. That is quite an increase.
Are mortgage lenders capitalising on increasing demand as homebuyers rush to complete before the end of the stamp duty holiday or pricing in greater downside risks to house prices? Time will tell.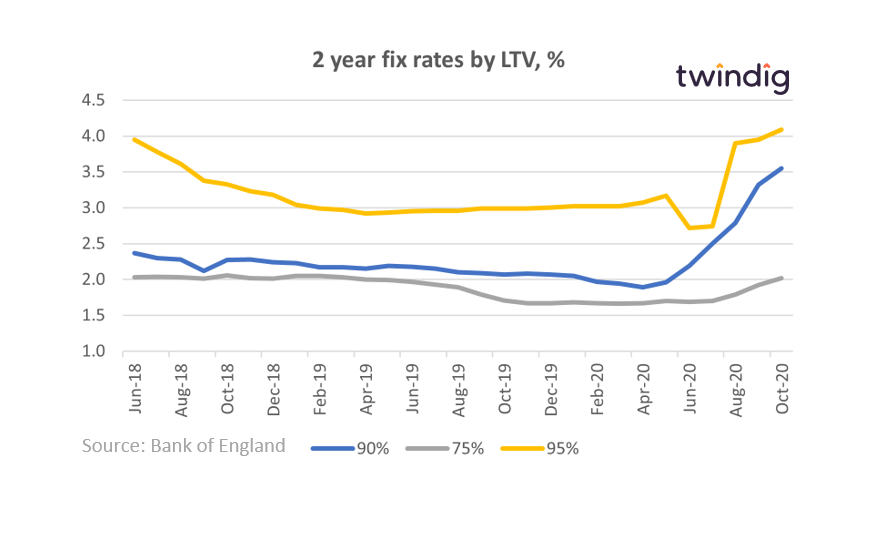 If we look at average mortgage rates for new business across the LTV spectrum we see that whilst fixed-rate mortgages have started to tick up they are not too far from their 12-month lows, but that boat has already sailed for floating rate mortgages.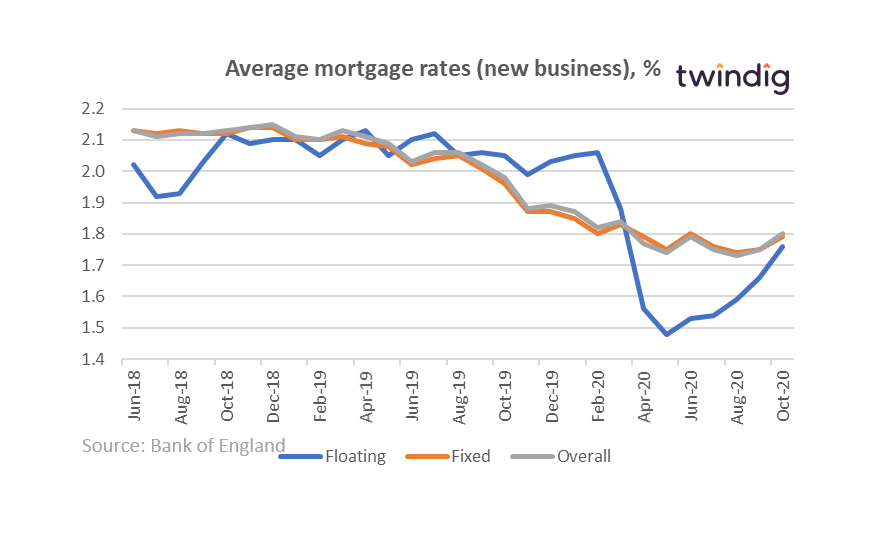 Nationwide House Index
Nationwide released its house price index for November 2020 this week
What they said
Annual house price growth 6.5% (+£13,897)

Monthly house price growth 0.9% (+£1,895)
Twindig Take
Nationwide reports this morning that house prices increased by 0.9% (up £1,895) in November taking annual house price inflation to 6.5% (up £13,897). This is the highest growth since January 2015.
House prices have certainly entered the festive period in a party mood. There are however concerns about what happens to the party when the stamp duty holiday music stops in March 2021, but for now, the housing market is partying like its 1999 rather than Covid infected 2020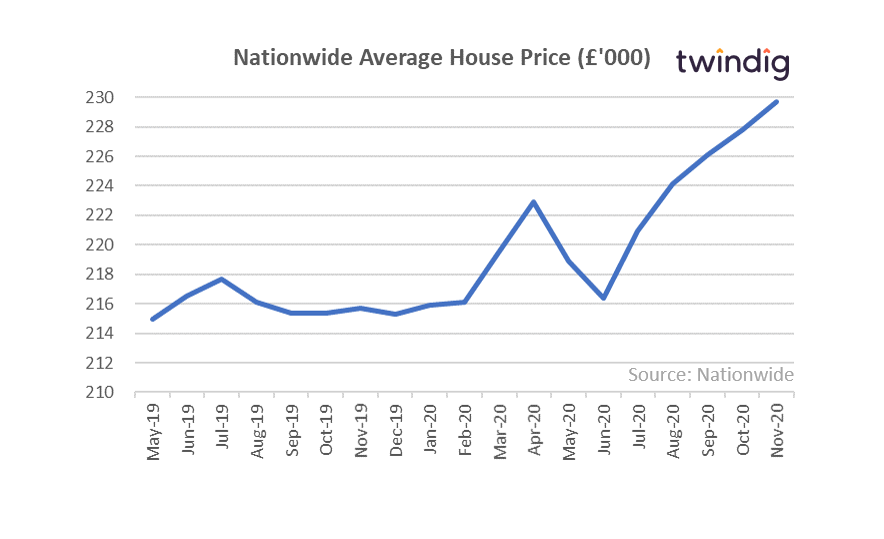 Twindig Housing Market Index
The Twindig Housing Market Index increased by 7.2% to 86.9 its highest level since February 2020 a week where all the data points we cover moved in a positive direction. Bank of England mortgage approvals made the housing recovery look more like the Nike swoosh than a 'V-shape', and the Nationwide reported that UK house prices continued to rise during November 2020. The end of Lockdown II was a cause for celebration as were the early signs of downward trends in COVID-19 infections, hospitalisations and deaths.
In company news, Berkeley Group delivered a strong set of half-year results reporting that it has invested heavily in land over the last six months and committed to a new five-year cash return plan. Berkeley's confidence in the housing markets of London and the South East helped boost investor confidence this week. Growing takeover speculation in the estate agency sector also lifted investor's spirits as Alchemy raised its offer for Countrywide and The Property Franchise Group made a takeover approach to Hunters.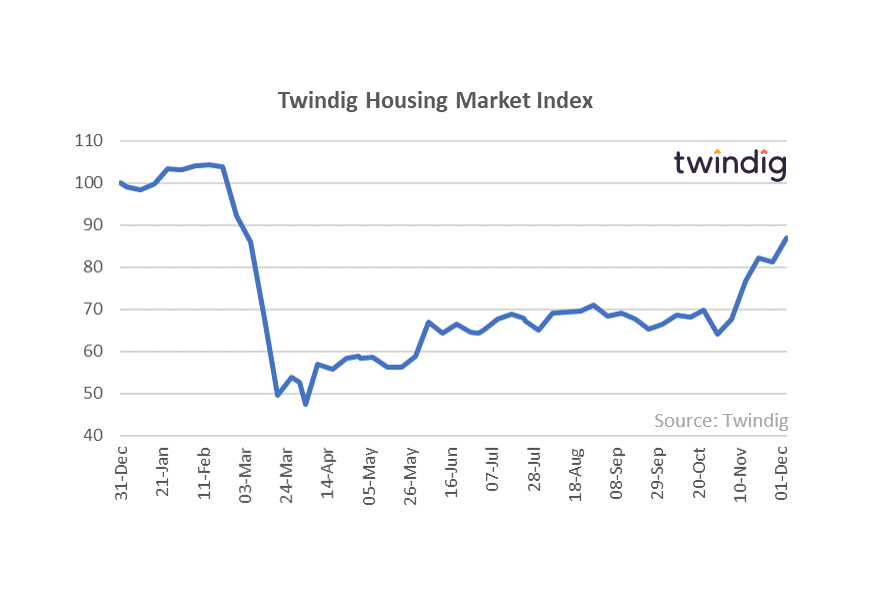 Countryside Properties
Housebuilder Countryside reported its full-year results this week
What they said
Record orderbook up 23% to £1,432m

Splitting the business in two – open market housebuilding and Partnerships (social/affordable housing)

Net cash £98.2m
Twindig Take
It is sensible for Countryside to separate housebuilding from its partnerships this will give greater visibility on the operations of what are two distinct businesses and allow each to focus on their plans rather than compete for capital.
In our view, there is huge growth potential in the market for partnership and alternative tenure homes and the separation of the businesses will shine a light on this opportunity.
It will be interesting to see if the housebuilding business ends up being acquired by a competitor, bought by management or end up in the hands of private equity.
Berkeley Group half-year results
On Friday Berkeley Group reported its half-year results and set out its stall for the next five years.
What they said
We continue to invest in land, having acquired four new sites covering 2,800 plots

The Group has £954 million of net cash

It will return £280m each year to shareholders out to September 2025
Twindig Take
If an Englishman's home is his castle and cash is king, then Berkeley Group is the king of the castle. In a period where economic upheaval is behind us, and economic uncertainty is ahead of us, Berkeley has delivered, is delivering and will continue to deliver strong financial results and attractive returns to shareholders. Whilst most of us do not wish to predict what next year will hold, Berkeley is both investing in land for the future and has set out its plan to deliver £280 million to shareholders per year, every year to 2025. They say that the housing market is cyclical. It is, but Berkeley is able to manage the cycle rather than be managed by the cycle.
A busy week for estate agents
A city rule of thumb is that takeovers and mergers and acquisitions are more likely to occur at the top or the bottom of the market. At the top as the race to be the dominant player leads to a land grab as organic growth opportunities start to slow. At the bottom as valuations become over short-sighted and pessimistic.
We currently have two M&A situations in the estate agency sector.
Alchemy Connells and Countrywide
Private Equity firm Alchemy and Connells fighting over Countrywide the UK's largest estate agent. Unfortunately for Countrywide, several operational (and market) issues have come to a head at the same time and it finds itself on the ropes. This is a classic turnaround situation. The majority of the jigsaw pieces for success are there, just jumbled up and a few need either to be found, replaced or reshaped to fit. The battle between Alchemy and Connells is similar to that of two potential buyers fighting over the same house. The winner will be the homeowner (or in this case, Countrywide's shareholders).
The Property Franchise Group hunting Hunters
Whereas the situation with Countrywide is one of weakness, both The Property Franchise Group (TPFG) and Hunters are fighting fit. Both have performed well since the housing market re-opened. TPFG is twice the size of Hunters in terms of market capitalisation, but in terms of branches, they are closer: TPFG has 300 against the 200 of Hunters.
Is this a top or bottom of the market situation?
Perhaps a bit of both, the stamp duty holiday means that both companies have the wind in their sails, but with the secondary market slowing due to Christmas and the looming end of the stamp duty holiday, both may find themselves stuck in the doldrums for much of 2021. In this scenario TPFG the opportunity to fully integrate Hunters in a relatively quiet market and investors would look to the potential of the enlarged group rather than what might be rather dull sets of results in a muted market.
The key to success in any estate agency is the people. Estate agency is a people business and the most important people are in the branches. Both TPFG and Hunters should seek to prioritise keeping their franchisees happy ahead of their shareholders because the former drives the value for the latter.
Stand up Belvoir?
Belvoir is a bigger franchise estate agency group than TPFG and it has a good record of acquisitions under its belt. I wouldn't be surprised if Belvoir spends time this weekend whether they should throw their hat in the ring and join the hunt for Hunters.
What next for Winkworth?
The current interest in the franchise sector may also bring Winkworth the grandee of the franchised estate agency sector, founded in 1835, floated in 2009 and with a shareholding of more than 40% Mr Agace may find his phone busier than normal this weekend...
Subscribe to Market Views