Houselungo 16 May 21
A lungo length look at this week's housing market news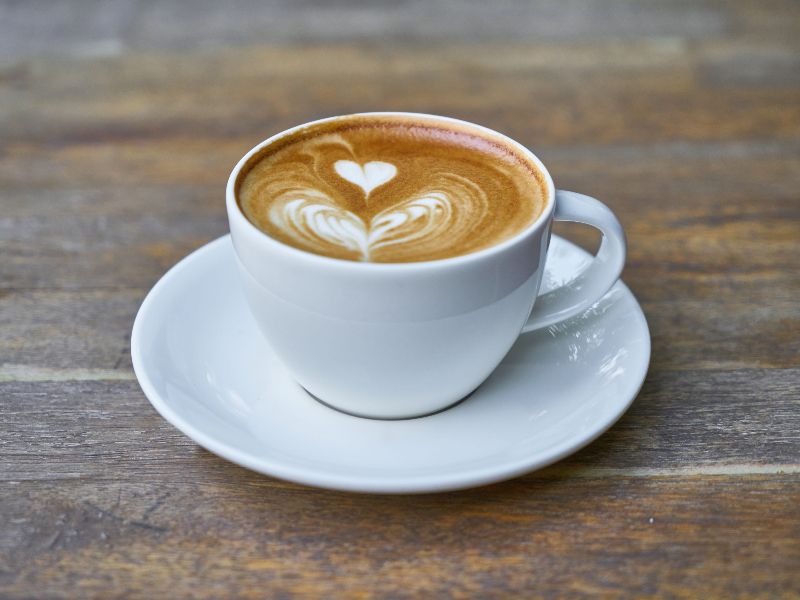 Halifax House Prices – another record high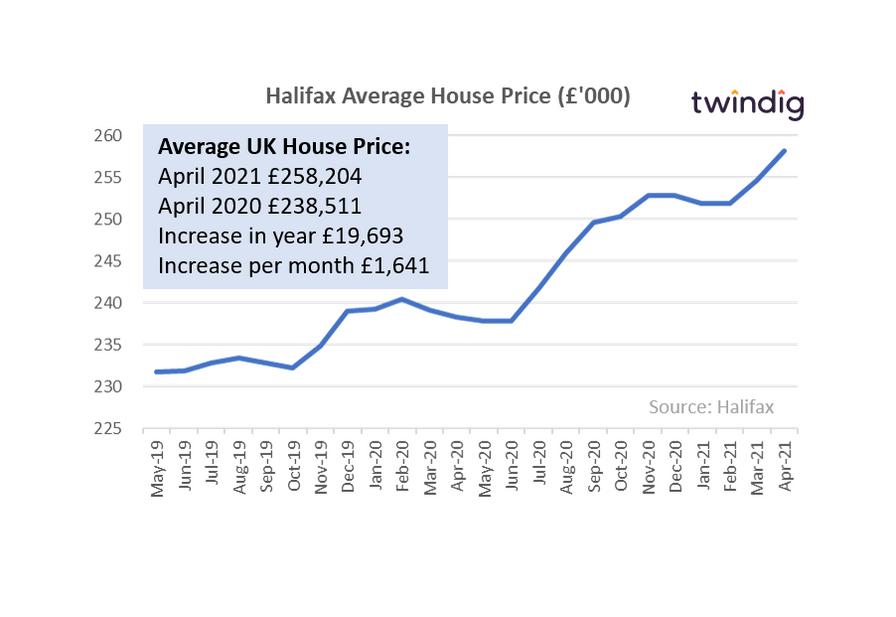 The Halifax issued its house price index or April this week
What they said
Average UK House price £258,204
1.4% or £3,600 higher than in March 2021
8.2% or £19,700 higher than in April 2020
Twindig take
Average UK House Prices rose by £3,600 (1.4%) in April 2021 to £258,204, another record high according to the Halifax. UK House prices have increased by 8.2% (almost £20,000) over the last 12 months as optimism grows for the longer-term outlook for the UK economy. There is no doubt that the extension to the stamp duty holiday helped April to break house price records. As the UK economy continues to open up we expect more homes to come to the market, this will help out frustrated buyers who will be hoping that more supply takes the heat of the seller's market down from boiling to point to a more manageable simmer.
Mortgage rates fall again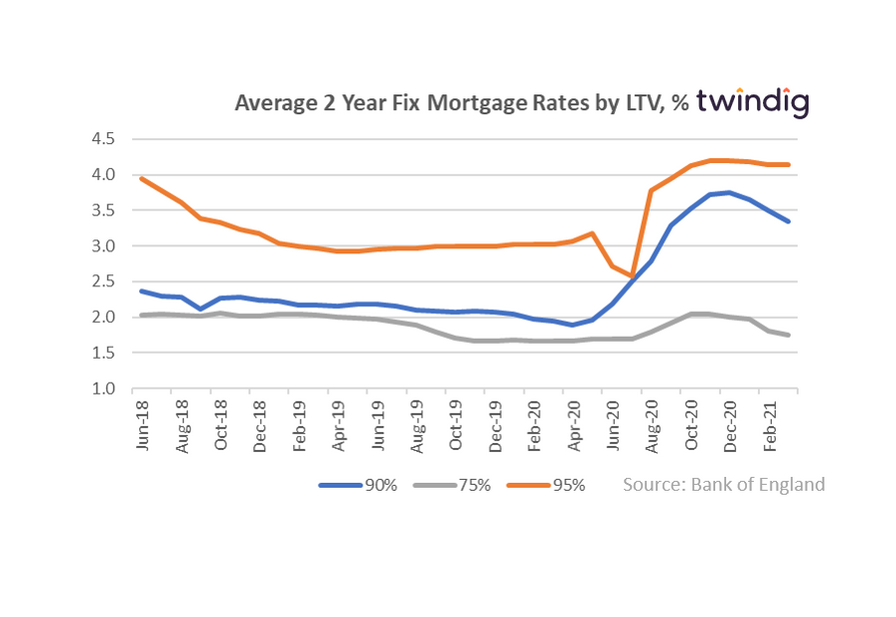 The Bank of England released mortgage rate data for April 2021 this week


What they said
2-year 75% LTV fix rate mortgage rates 1.52%
2-year 90% LTV fix rate mortgage rates 3.34%
2-year 95% LTV fix rate mortgage rates 3.99%
Twindig take
Whilst mortgage rates are higher than they were one year ago, the current direction of travel is down, which is good news for homebuyers as house prices are moving in the opposite direction. As the vaccine rollout continues with pace and the UK economy moves to a lower level of lockdown, lenders see the downside risks of mortgage lending continue to fall. We may see increases in mortgage rates to limit demand and if house prices start to move down rather than up, but for now all is well in the UK mortgage market.
RICS UK Residential Market Survey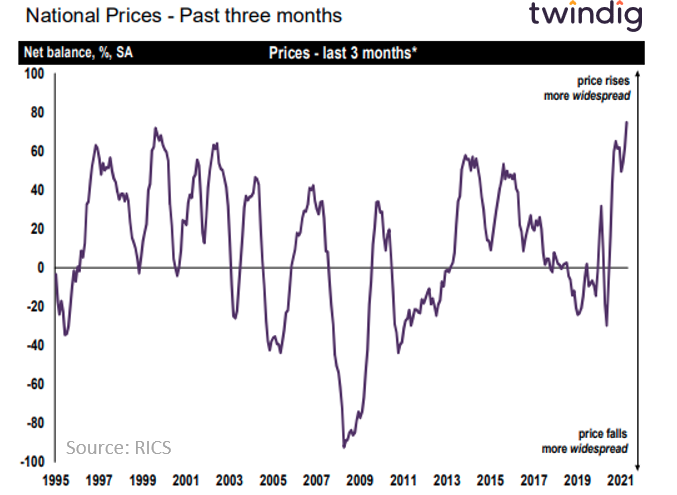 RICS released their latest UK residential market survey this week
What they said
Housing demand growth outstripping supply
House price inflation accelerating across the UK
Supply shortages also in the lettings market
Twindig take
The RICS survey is the first to report on the temperature on the UK housing market following the extension to the Stamp Duty Holiday. Not surprisingly demand has increased as the new race to complete a purchase before either 30 June 2021 or 30 September 2021 began. The increase in demand has put upward pressure on prices as already reported by the Halifax this week (average house prices up 1.4% month on month and 8.2% year on year). However, supply has not yet increased to meet the growing demand. The survey participants net balance for new instructions was -4% compared to +21% a month earlier, suggesting that the number of instructions is falling. Rental demand also picked up as the economy opens up and increasing numbers of tenants are looking for a change of surroundings. The rental market also points to a change in housing demand, according to Zoopla rents in London have fallen by 9.4% over the last year and have been fallen in other cities as the phenomenon of working from reduces the significance of where we work on where we live.
Help to Buy: record breaking house purchases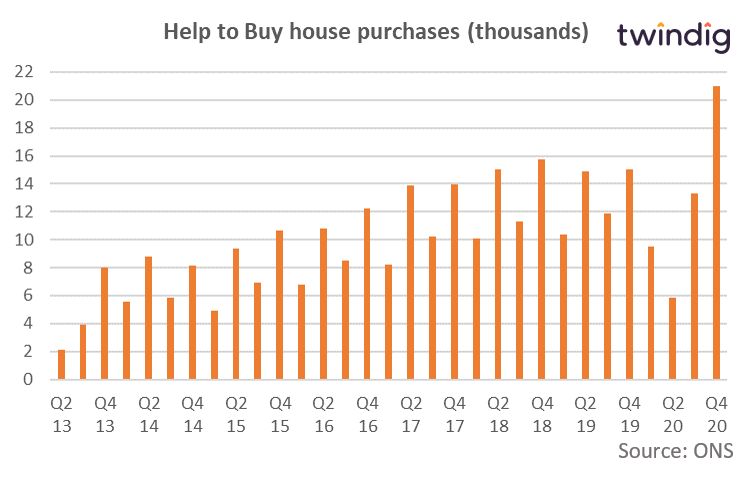 The latest UK Government Help to Buy data shows that Help to Buy house purchases reached a record high in Q4 2020


What they said
21,026 help to buy properties purchased between October and December 2020
313,043 properties have been purchased through Help to Buy since its launch in April 2013
82% of help to buy homes were purchased by first-time buyers
Twindig take

Help to Buy is certainly helping first-time buyers get a foot on the property ladder and the record level of purchases reported above once again highlights what a hurdle securing a sizeable deposit is to secure a foot on the property ladder in a period of rising house prices. As we noted above house prices reached a new record high last month so we expect the demand for Help to Buy to increase further. As the chasm between house prices and incomes widens and the size of deposit required increases, we may start to see a two-tier housing market split along the lines of those homes which do and those which do not qualify for help to buy. Could a wider acceptance of fractional homeownership be the answer?
Subscribe to Market Views