What we learnt from housebuilders this week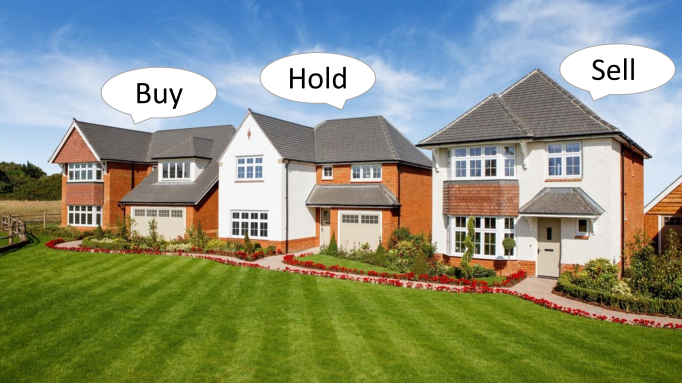 What happened?
Three of the UK's largest housebuilders (Barratt, Bellway and Redrow) reported their trading performance to the financial markets this week


Why is this important?
The trading performance of the housebuilders provides a detailed view of what is happening in the wider housing market helping us to understand if what the 'pundits' are saying is fact, fiction or somewhere in between.

So what did they say?


What Barratt Developments said
The economic backdrop has been challenging and consumer confidence has weakened significantly over the last six months

Barratt has seen some early signs of improvement in current trading during January, but doesn't think we are out of the challenging woods yet.


What did Bellway say?
Visitor numbers and reservation rates in January have improved from the levels in the fourth quarter of calendar year 2022 and, if sustained through the spring, the Group is on track to deliver full-year volume output of around 11,000 homes (31 July 2022 – 11,198 homes).

While still lower than the start of the prior calendar year, we have been encouraged by visitor numbers at our outlets in January 2023, which were significantly ahead of the levels in the fourth quarter of calendar year 2022. Website traffic and enquiries have also been strong, providing some grounds for optimism for the spring selling season. Overall, headline pricing across our divisions has remained robust, although, in some instances, targeted incentives are being used to secure reservations


What did Redrow say?
Whilst 2023 will be a challenging year as the market resets, early indications are better than anticipated and the market appears to be finding a new, natural level.

We have experienced a positive start to the second half trading (since 1 January 2023).


What does what they said mean?
Our key conclusions are that the underlying housing market conditions are not as bad as some of the headline writers would have us believe.

The key moving parts are 'volume' and 'price'. Volume - how many homes are being sold. Price - the price of the homes being sold.
What is happening to volumes?
There are down, but not out. Yes, housebuilders are selling fewer homes, but it is not the end of the world.

A key metric we follow is a housebuilder's sales rate, the number of homes it is selling on each site per week.

We show the sales rates for Barratt Developments over time in the chart below. Whilst the sales rates in HY23 were unusually low, they come straight after a period of unusually high sales rates, which accentuates the scale of the decline and Barratt reported this week that the sales rates so far in 2023 are better than they were in HY 23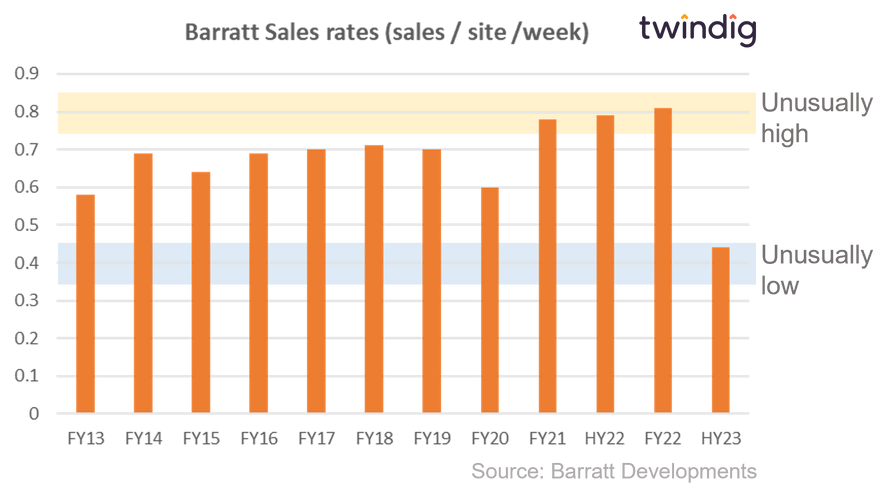 Redrow also saw a drop in sales rates in HY23 and a recovery, so far, in 2023 and Bellways' commentary was similar to that of Barratt's and Redrow's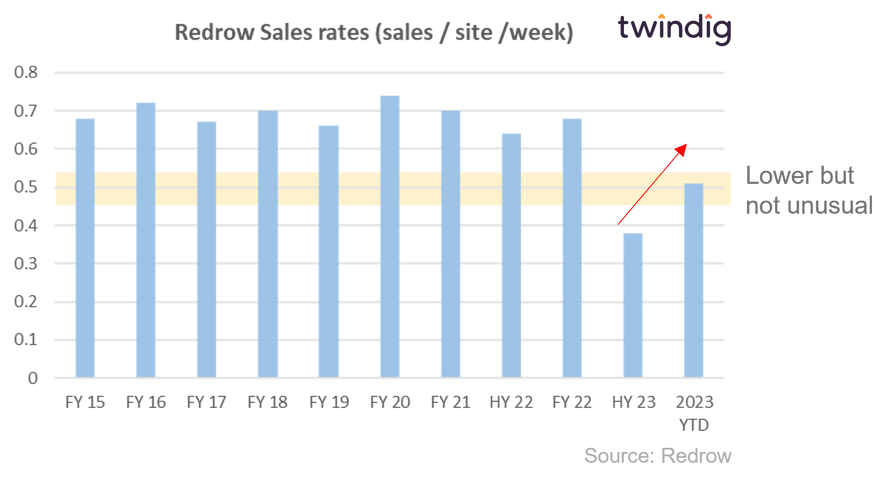 We do not think that a reduction in volumes is surprising, the COVID housing market was much more active than we had anticipated with homebuyers pulling forward their purchase plans to take advantage of stamp duty holidays. This hectic level of activity was unlikely to continue forever.

We have also had the impact of a change in the interest and mortgage rate environment and the housing market is taking time to adjust to the new normal.
What is happening to house prices?
The main house price indices are reporting that house prices are either falling or stable. For the record we expect house prices to fall further this year, but not to the extent of being a crash and putting millions of homeowners into negative equity.

Housebuilders are at the sharp end of house prices. Whilst we rarely, absolutely, have to sell our homes right now, housebuilders do not have that luxury. They are in the business of selling homes, and therefore, if they don't sell homes they go out of business.

If house prices are falling fast, housebuilders would know all about it, because housebuilders are in the unfortunate position of being price takers rather than price setters. The secondhand market is around eight times bigger than the new build market. New build prices, therefore, reflect what is happening to house prices in the wider market. At a simple level for every one new build home for sale, there are around eight or nine secondhand homes and if the new build price is too high, it won't sell.

Housebuilders are having to work harder to sell homes and they are using more sales incentives to entice homebuyers to buy. Sales incentives cover a whole host of additional offers such as free carpets, stamp duty paid or upgrades to the fixtures and fittings.

Sales incentive levels are running at around 5-6% of the house price, but they can't go much higher. If they do the mortgage lenders change their mortgage offers to reflect what they believe is the 'true' (and lower price) of the home.

Interestingly, aside from incentives, none of the housebuilders are talking about house price falls. They are still showing year-on-year growth in the prices of the homes they are selling.

In previous downturns, we have seen housebuilders cut prices to sell homes. We are not seeing that today. Fewer people are buying homes, but prices are currently firm.

It was interesting to see the results of Martin Lewis's (The MoneySaving Expert) poll on house prices this week.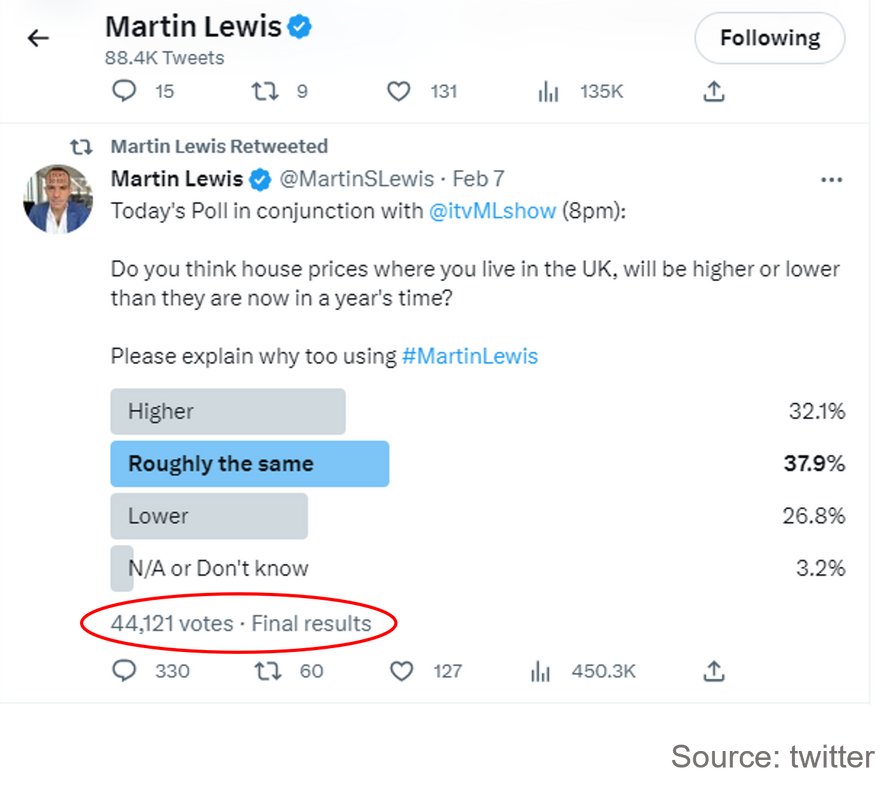 More than 44,000 votes were cast with 60% believing that house prices will be the same or higher in one year. If that poll (and 44,000 votes are not to be sniffed at) is representative of the house-buying public, then if homebuyers think prices will rise they would be foolish to put off their purchase or haggle overly hard on price today to end up paying more tomorrow.
Subscribe to Market Views