House prices reach record highs in September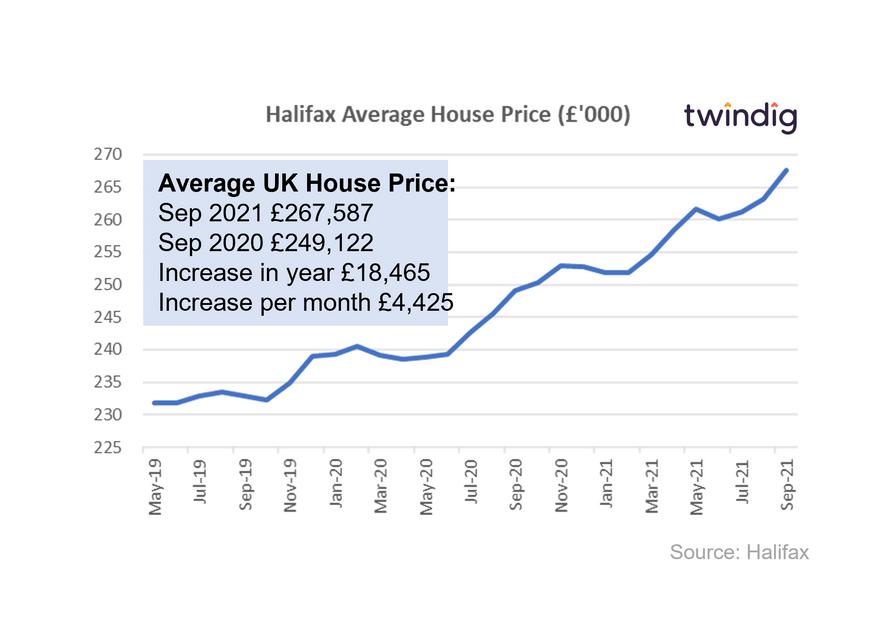 The Halifax published their house price index for September on Thursday
What they said
Another record high for UK house prices
Average UK house prices £267,587
Annual house price inflation 7.4% or £18,465
Twindig take
UK house prices rose to their highest ever level in September 2021 according to the latest data from the Halifax. House prices rose by £4,425 in September to £267,587 as the Stamp Duty Holiday drew to a close.
The UK might not yet be a high wage, high skill economy but it is certainly a high house price one.
Whilst the Stamp Duty Holiday may have been a catalyst for house price growth, it does not explain the scale of the increase, house prices rose by almost £25,000 during the holiday against an average saving of £3,379. Homebuyers were made worse off not better off by the stamp duty holiday.
It seems that the race for space along with the stamp duty holiday has been putting upward pressure on house prices with the prices of flats au 6.1%, semi-detached homes up 8.9% and detached homes up 8.8% over the last year. Time will tell if the lockdown lifestyle trends will last and we expect that reports of the demise of urban centres are premature. Hybrid working patterns are looking ever more likely meaning that if we do transition to a high wage high skill economy, many will look to have an urban bolt hole as well as a rural retreat.
Rising living costs and rising taxes may temper future house price growth, but prices continue to be underpinned by a shortage of stock for sale and if the UK becomes a high wage high skill economy, house prices may become higher still.
Subscribe to Market Views