House prices make a hasty retreat falling by £1,066 in October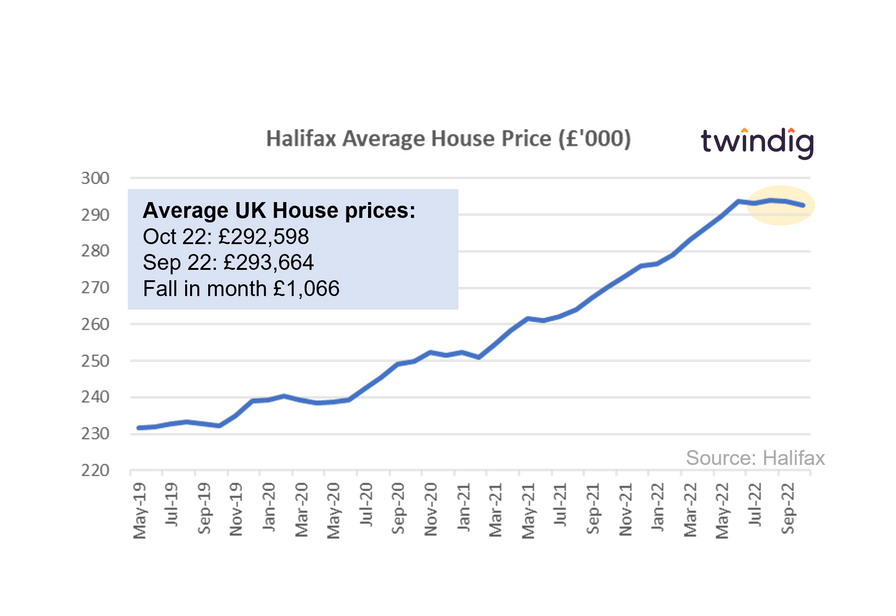 The Halifax released its house price index for October today
What the Halifax said
Average house price £292,598
House prices fell by 0.4% or £1,066 in October
Annual house price inflation 8.3%
Twindig Take
House prices fell by £1,066 during October as they start to lose the battle against rising mortgage rates and living costs. The decrease of £1,066 in October is the largest drop since February 2021. According to the Halifax, average house prices have now fallen for the third time in four months and it seems to us that the house price party is now finally over. House prices were able to outrun COVID-19, but the combination of rising mortgage rates and living costs is starting to take its toll.

However, it is not all doom and gloom. Average house prices are still more than £52,000 higher than they were before the start of the COVID-19 pandemic, therefore, the overwhelming majority of homeowners have built up a considerable amount of equity in their homes. Even after a period of house price softening many will remain better off than they were before the pandemic started.

Since the reversal of most of the measures in the mini-budget, financial markets have stabilised suggesting that mortgage rates will not rise to the levels previously feared.

We also believe that supply and demand dynamics will adjust to the falling house prices. As house prices start to fall fewer people will put their homes on the market for sale and this reduction in supply will reduce the size of house price falls.

Many would think that house price falls benefit first-time buyers because a fall in house prices improves affordability. However, the Halifax has reported that although house prices are falling tighter lending conditions and higher mortgage rates have made it more difficult for first-time buyers to get a foothold on the housing ladder.

In our view, house prices are likely to be under pressure whilst the Bank of England increases the Bank Rate. Bank Rate is expected to peak at around 5.25% in Q3 2023, so we may have to wait for Bank Rate to start to fall before we see house prices rising again.
Subscribe to Market Views